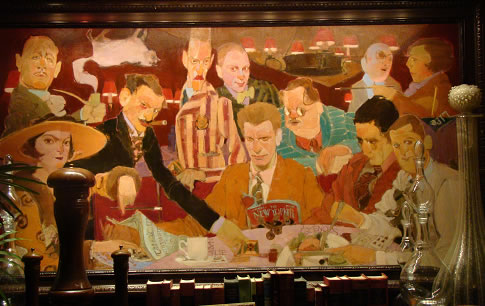 It's always a pleasure to visit New York, although I must admit it did seem a little on the chilly side arriving from Miami. And having flown to Miami from Bombay, I wasn't entirely dressed for a chilly November day in the Big Apple. However, all that negativity passes when I check into the Algonquin Hotel.
Travelling so much has made me look out for hotels specific to my character, international chains are fine, but rather lack character. So around the world I have a list of preferred hotels, and in New York the Algonquin is my choice. Opening its doors in 1902, it's located at 44th Street in Midtown. The Algonquin has also been designated as a New York City Historic Landmark.
Its first owner-manager, Frank Case (who bought the hotel in 1927), established many of the hotel's traditions. Perhaps its best-known tradition is hosting literary and theatrical notables, most prominently the members of the Algonquin Round Table. The Round Table included notables such as Dorothy Parker, Robert Benchley, Harpo Marx, amongst many others. It was a breeding ground for work which appeared later that week in the New Yorker, and spawned many memorable humorous observations, such as Parkers acidic "You can lead a horticulture but you can't make her think". Two recent films have been made about the Round Table at the Algonquin, being The Ten-Year Lunch which won an Oscar in 1987 for Best Documentary Feature, and the 1995 drama Mrs. Parker and the Vicious Circle. All of which is wonderful to ponder as you sip a Sazerac as I am wont to do, in the wonderful drawing room.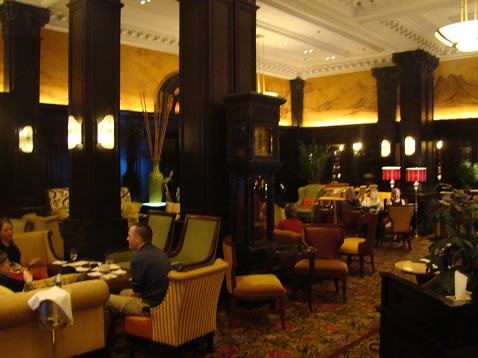 However, one of the most endearing features about the Hotel is Matilda. The Algonquin's cat tradition began in the 1930s, when the story goes that a stray cat wandered in off the street, it was all raggly-taggly and half drowned. Frank Case, the GM at the time felt sorry for it and he kept it. That first cat reportedly drank milk out of a champagne glass. Actor John Barrymore insisted he have a theatrical name, so he was called Hamlet. The idea inaugurated a tradition: When the Algonquin cat is male, he's Hamlet; when female, she's called Matilda. No one knows why. The currently Matilda has been in residence for a number of years, and she even has her own business card.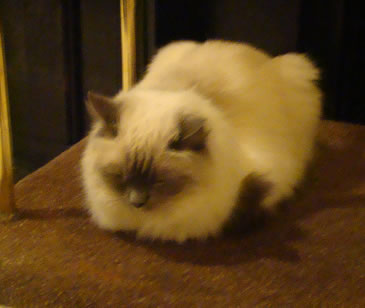 Although the rooms are a tad small, the wallpaper is a series of Algonquin cartoons that appeared in the New Yorker over the decades, and the hotel is just two minutes walk from both Times Square and Fifth Avenue. Also, rather like the Carlyle, it has a regular supper show, usually featuring a jazz singer, last week, and currently in residence, I saw the very wonderful Paula West.
It really is a home from home, and it's the only place I stay at when in New York. So much so, that when I celebrate my 50th birthday in May next year, I will be hosting it at the Algonquin.