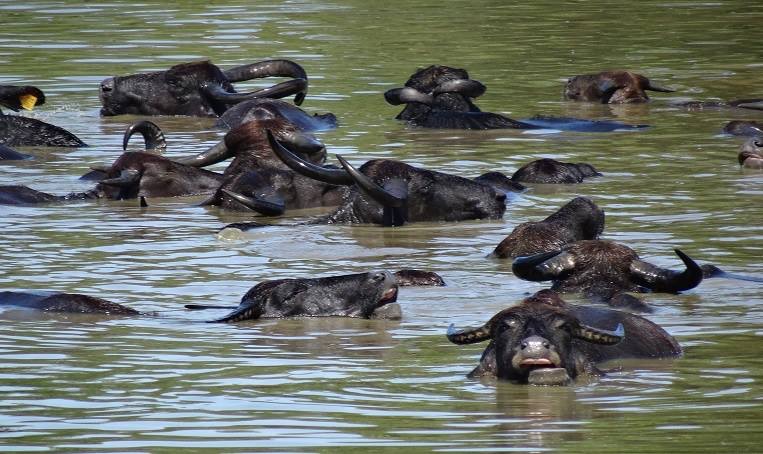 Udawalawe is the nearest national park to where I am based in Sri Lanka, sited on the edge of the southern plains just as the rugged mountains of the islands interior begin to appear. Adams Peak shows itself amongst the many crags, and this huge expanse of rolling mountains, carved in part from ancient volcanic rock allows Udawalawe its regular downpours, keeping the area lush. It is one of the best places in Sri Lanka to see wild Elephant.
It also possesses a massive, man-made lake, which serves both as a reservoir, a fish farm and as a haven for bird life. Udawalawe is therefore, an ornithologists delight – although the fishing stocks are kept purely for the locals, as a trade off for flooding what was previously pasture. Dried and smoked fish – all very tasty – can be purchased road side on the drive into the main village, where guest houses and small hotels line the street. Accommodation, although basic, is functional and inexpensive, and all lodgings can arrange tours into the Park.
The best way to demonstrate Udawalawe's beauty and sheer magnificent array of wildlife is to share some of the photos. These display the reason why for me in the south, it is my preferred safari destination, although leopard are rare here and best seen either in Yala to the east, or Willpattu to the far north west. But for elephant, wild animals, and birds, Udawalawe reigns top of the many National parks and safari destinations in my view. Safari's run from 6-9 am in the morning, and from 3-6pm in the afternoon. I always do both, with a rest and lunch inbetween, as you are likely to see different species at dawn as opposed to dusk.