Przewalksi's Wild Horses
I've been speaking at a United Nations Development Program event in Ulaan Baatar, the capital of Mongolia. It's a city I know well (I wrote a best selling guidebook about traveling throughout Mongolia two years ago) and I'm pleased to be back, old friends to see, and some catching up to do. The conference is fine and goes off well. Mongolia is a beautiful country, and although I know the weather is going to be chilly, I've tacked on an extra four days to go see the Mongolian wild Pzrewalski's Horses in Hustaai, to the west of UB, and then to take a quick trip south into the Gobi. The horses are endemic to Mongolia, and are quite different from domesticated horses. They also very nearly became extinct – the world population was down to just 17 animals (3 stallions) in the 1970's. Still very rare, there are about 350 of them in the Hustaai reserve.
We drive for about six hours, and find ourselves with a guide who takes us to the still frozen streams the horses come down to at dusk to drink from, breaking the ice with their hooves. There they are – a group of about 50 horses, with two separate Stallions tolerating each others close presence while keeping a watchful eye on their harems of about 25 mares and last years foals. The Przewalski's horse's head is huge, far bigger than a domestic animals, and it has no forelock. I look for the faint stripes they sometimes have, zebra like on their hind legs, but their winter coat has hidden it. We stay about an hour, in close proximity before the cold – it must be about -10 – drives us back to our jeep.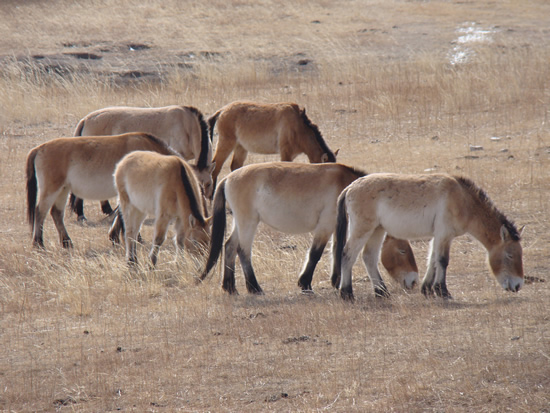 Crossing The River Tuul
That evening we hurry to find a ger to stay at. Hospitality in the Gobi is dependent upon finding a local nomadic family and asking for permission to shelter in their ger for the evening. In exchange for a small amount of money, and some gifts, they are usually accommodating, however, as dusk begins to settle, we find the hard to find nomads are very busy with lambing, and newly born lambs and kid goats are taking up sleeping space. Crossing the Tuul River as the sun goes down, we see an amazing sunset, and I stop the jeep to get out and take photographs. I can also hear contented munching of grass and idle quacking – an entire flock of Ruddy Shelduck, a bright orange duck the size of a goose, is feeding before roost. The sight is pure wilderness at its best.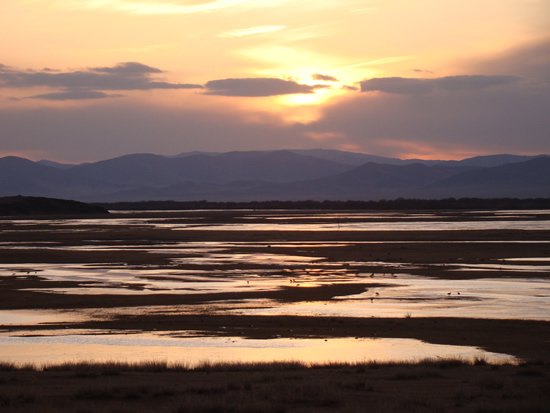 We eventually find a remote ger and family to stay with, and they make us very welcome. Meggie and I cuddle up close on a narrow bed, Andy, my colleague from China Briefing, is on the floor, accompanied by our driver, guide, the man of the house and his son. The wife and their two teenage daughters sleep in the other bed. It is -15 outside, the milky way is in full view, but inside the ger, ten of us share the warmth of the tent and we sleep at about 10pm.
The next morning, after a breakfast of coffee, and local goat meat dumplings, we head off further south. Yet we still have rivers to cross, and we have a problem. The ice is no longer thick enough to support the weight of the jeep, yet isn't thin enough for the jeep to break it easily to forge across the river. Ice is heavy, and despite driving repeatedly into the river to try and break it up with the crash barrier attached to the front of the vehicle, the ice remains resistant. We also come across nomads, in a broken down van, moving their ger to spring grazing pastures. The animals are away ahead, but their van has serious problems. Despite several attempts to pull it and jump start the vehicle, it won't budge, and we tow it to higher ground, where they are able to make a call for someone to help. I give them a half bottle of vodka for the cold, and to pass the time away with. Eventually we find a place to cross, and jeep half submerged, battle on.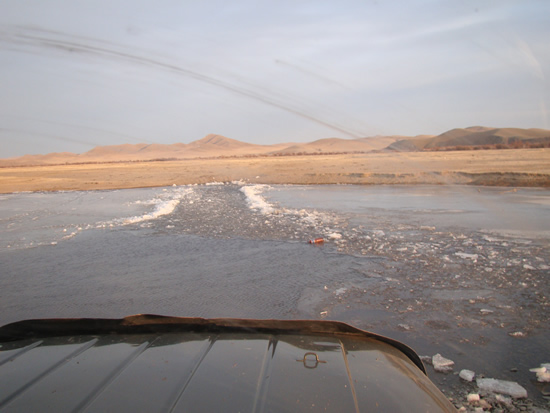 It's starting to get more seriously desert like now, and on top of a huge sandstone overhang, a Golden eagle appears, mobbed by carrion crows. The wind is whistling down the valley and it is impressive, how, flying against the wind, this massive bird is able to battle against its howling draught. The crows give up, but I get a good photo, and freezing, duck back into the jeep for chocolate.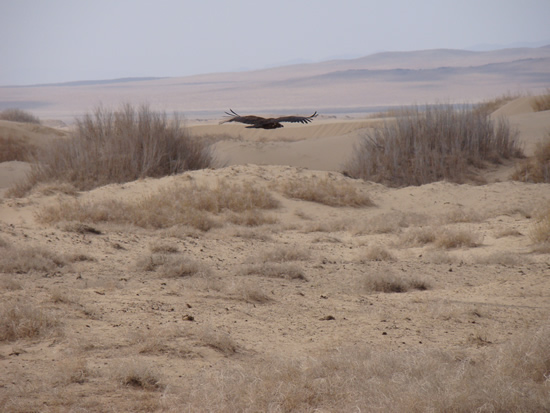 This evening is spent with a local tracker in his ger, who proceeds to show us, with mighty shots of vodka, a local card game, "108". It's really designed for gambling, but we soon pick it up, with a minor forfeit to pay to the winner. It's howling outside, and the tracker takes the first game, and our driver the second.
Trekking With Camels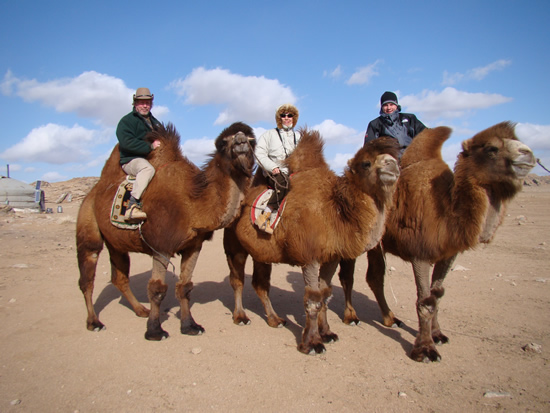 The next morning we are off further south to some serious Gobi. We're looking to go horse riding and borrow some nomads horses for a good gallop, or alternatively maybe some camels. However, with the animals producing young, the horses are busy, and its Bactrian camels we get. It's utterly freezing, although bright and sunny. We saddle up, then in that peculiar lumbering, tipped forward then backward motion, find ourselves each twelve feet up in the air on these majestic beasts. Our destination lies an hour and a half away, across desert and through a wild valley before our stop for the evening. En route, we see Black Vultures, Hen Harriers, Golden Eagles, Rough Legged Buzzards and an arctic fox, still in his winter coat, running pell mell across the desert valley floor. The wind is appalling and it slicing straight through me. The camels though, are also still in full winter coat and I bury my hands in their fur, trying to keep them warm. We survive however, and are later rewarded with a very comfortable nights sleep in a ger and a delicious stew made from goat meat, as well as boiled goat heads, which we tear into with abandon, despite them looking evilly eyeball to eyeball at us. Chunks of goat cheek and ears are wolfed down with glasses of Chingghis vodka. It's minus 20 outside, but the stars are out again and the milky way reappears. A meteorite shoots past, glowing green with its outer space content of extraterrestrial copper. We're cold, but getting warmer, and nothing soothes the soul sometimes than getting a cold icy wind through you in the middle of winter just to prove you're still alive. Tomorrow, we have an eight hour drive back to Ulaan Baatar and a 6pm flight to catch to Beijing. At 5 O'clock in the morning, we get up, still pitch black, but by 9am and well on the way back, we've seen herds of hundreds of wild gazelle, and have coffee in our bellies. It's amazing what you can see in the desert when you start early.