It's been awhile since I've been in Bangkok, and despite the recent political turmoil the city – and country – seem to have a remarkable resilience. Often referred to as the 'city of smiles', returning here for the first time in five years does not disappoint. Fortunately my travel agent, the wonderful Rebecca, based in the Asian hub that is Hong Kong (I've never met her, but she deals with all my travel arrangements online and via phone wherever I am globally) has booked me into La Bua – the State Tower. The rooms are superb, of course, and Thailand is one of the growing number of Asian countries that really does service (something China especially sadly lacks in their pursuit of dollar at all costs) – I am greeted everywhere by hands held in prayer and the ubiquitous Thai greeting "Sawadee Khap". Great as La Bua is, the rooms and service are not the main reason to be here. That prize belongs to the Sky Bar – lavished, open air, across the entire 65th floor, it is, I believe, the highest open air bar in the world.
Thailand has a fairly constant year-round climate, however, if it does get a little sticky and humid at mere mortal ground level amid the taxis and tuk-tuks, The Dome's sheer elevation, and subsequent Siamese breeze more than make up for sweaty toilings far below. Serenaded by a jazz band upon a remote pedestal, and with an all-Asian menu for romantic couples, this really is a cool place to be. Possibly the best bar in the world? Well, importantly, they also know how to make a mean martini. I don't really need to say more – except that next time you hit Bangkok – make a move for here. Best time to arrive: From about 6:30 – 7pm, to watch the sun go down, and the street lights, quite literally, shine up.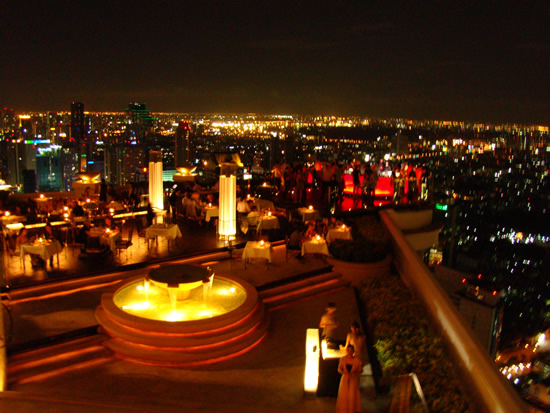 The Grandeur of a sweeping ballroom staircase leads you down to the bar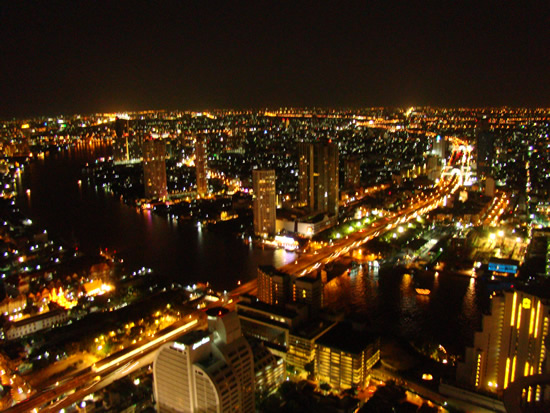 Bangkok spreads out, like a map from Stamfords, far below.