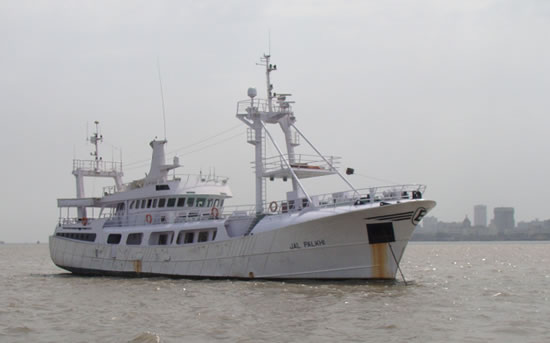 Weekends in Bombay are always fun, the city connects with its coast much better than Shanghai or other coastal Chinese cities do. In fact, often flying out of Pudong and heading south, the coastline of eastern China is intensively dotted with scattered islands…sailing around those – if it were allowed – would be great. But the Taiwan issue and a fear of lots of Chinese people getting out of their depth on lilo's has put the kibosh on that. Bombay, however, is an archaic, but charming maritime paradise. The cities wealthy and elite all have yachts, and have vessels of different shapes and sizes, or at least know someone who does. My office building landlord is a case in point. Having served as a skipper in the merchant navy for many years, he set up his own tug boat operation in Bombay and that did well. Retiring a few years ago, yet not wanting to give up his nautical freedoms for a medium sized apartment with walls, he purchased a 1980's Dutch trawler. As one generally does when faced with retirement.
With the North Sea fisheries getting depleted, such vessels were being decommissioned by the respective Governments, and compensation paid to the fishermen owners. A large number of such vessels came onto the market, often at knock down prices; my ocean going landlord had found himself a deal. Refitted in the Bombay boatyards, the 2000 tonne vessel is now renamed, and reflagged, and sits out in the middle of Bombay (not for nothing is the word "Bay" in the cities name). It's been fully converted, has a Jacuzzi on the main deck, a film theatre and discotheque below, and a huge lounge area with a well stocked bar. I certainly know about the latter as Captain made me two gin and tonics that knocked my socks off. Lunch was served at two, and with a permanent eight member crew, he really does have the life of riley.
Its available to his friends for parties – he's had a jazz band perform on deck for 150. That sounds like a lot of fun, as does a 'cruise to nowhere' around Bombay's islets and coastline. Back ashore by dusk, I now know what I'll be doing during weekends here. In China, Hong Kong is really the only place one can mess about on boats – although Macao has a small marina as well. It's the high seas and the high life on board gin palaces in Bombay, and I'm looking forward to it.
Meanwhile, I take my ocean skippers course in Thailand in June, and then get to sail a friends yacht from Cape Town back to Phuket on a 5 week voyage across the Indian Ocean by sail. I have to run my India business also during that time, and on the voyage my staff will have to fend for themselves somewhat. (A good boss never wants to be too bossy, you have to let your staff take responsibility or you can never get away to do other meaningful activities like drink Gordon's in the afternoon). My China based staff will help out while I become ever more nautical. And in a city where one can be maritime minded, like Bombay, having an Ocean Skippers license can open up a lot of possibilities.
I'm back to China on Monday, then back here again in two weeks. All good except for the flight times. One can never arrange a flight at a reasonable hour; they all either depart or arrive at 3am. The Indian airport authorities must either be insomniacs, or there is a union deal going on over night shifts and quadruple pay for the workers. Either way, it's Cathay Pacific, which is good.
Captain Ahab's Gin & Tonic:
Ice
As much Gin as one can get in the glass
Some tonic to make it froth up a bit at the top (decorative purposes only)
No slice of lemon. The days of scurvy are past.
For an Indian effect, for female companions, one could decorate further with a sprig of coriander, but it's not really necessary.
Consume at rate of one every 30 minutes.