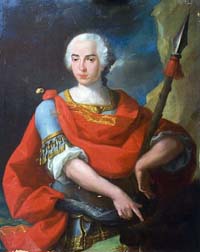 Those of you who follow my blog will know by now my love of opera, and possibly, the fact that I used to sing. In fact, given a stiff drink or two, I can be persauded still to render a few bars of Strauss in public – usually the Champagne overture from "Die Fledermaus". Indeed, the last time I did so, in a packed KABB in Shanghai, I received an ovation and two glasses of complimentary bubbly on the house. That may have been to shut me up, but nonetheless, I tried.
One of the enduring legends about Opera however has been the role of the Castrati – a long outlawed practice of severing young pre-pubescent boys from their testiles in order for them to develop a particular, some say exquisite, high male soprano richer in tone than the current female version given the larger male chest size. Very few recordings exist of Castrati singers, however I have seen, on several occassions, sheet music from the original composers specifying the role. Prepubescent castration for this purpose diminished greatly in the late 1700s and it was illegalized in Italy in 1870. This didn't prevent Castrati from entering the profession however, and the last known such singer was Alessandro Moreschi, who died in 1922. A rare, 100 year old recording of him singing "Ave Maria" can be heard here:
The operation of course, was barbaric, and as the castrato's body grew, his lack of testosterone meant that his (bone-joints) did not harden in the normal manner. Thus the limbs of the castrati often grew unusually long, as did their ribs. This, combined with intensive training, gave them unrivalled lung power and breath capacity. Operating through small, child-sized vocal chords, their voices were also extraordinarily flexible, and quite different from the equivalent adult female voice, as well as higher vocal ranges of the uncastrated adult male. so popular where the castrati, that despite the medical horror, the Catholic Church's Pope Benedict XIV tried to ban castrati from churches in 1748, but such was their popularity at the time that he realised that doing so might result in a drastic decline in church attendance. The castrati continued, until the practice eventually fell out of favour in the early 1820's, when the last public performance was given. The tradition lingered awhile in the church, but otherwise was off limits.
Nowadays, apart from a few ancient, lo-fi recordings, very little is known about their sound. Until now. Enter the wonderful Cecilia Bartoli, possibly one of the finest contemporary mezzo-sopranos, whose love for exploring operas little known and forgotten heroes and heroines is fast developing into an absorbing collection of musical performances. Her new CD, artfully entitled "Sacrificium", in honor of the great sacrifices such young men of the age gave, is dedicated to reproducing the roles and sounds of the castrati, and includes many performances of arias long forgotten, including eleven world premieries. Castrati had entire pieces written for them by the likes of Mozart, Handel and Porpora, who all wrote specific pieces for them, none of them performed today. Bartoli has recreated however, using instruments of the day and the original scores, together with her outstanding voice, a recording that must come close to how they would have sounded.
Her CD, plush with the history of the unfortunate castrati, but replete with the beauty of their singing, is an amazing performance and one I highly recommend. If you've ever hummed a few bars of "Nessum Dorma", or wondered about the illfated boys who gave their very manhoods in the name of song, then this is for you. It is the sound of beauty.
An introduction is here:
Picture at top: A newly discovered 18th century oil of the famed Italian castrato Carlo Broschi, known by the stage name Farinelli.