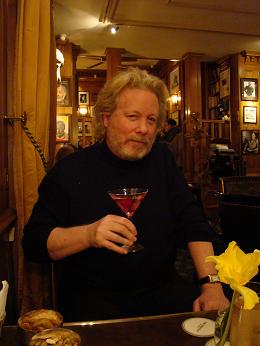 It's always a great pleasure to be in Paris, coming especially as I do with partially Gallic heritage. It's an even greater privilege to take cocktails at the Paris Ritz Hotel . My good friend Colin Field, an Englishman in Paris, is the head barman at the Hotel, and is famous for having invented the most expensive cocktail in the world. He's also acknowledged as one of the Greatest Barmen in the world (Forbes, amongst many others) so a trip to Paris is never really complete without paying him a visit. His recent book "Cocktails of the Ritz" also features an introduction by Kate Moss, such is his pulling power (I'm lucky if I get the Head of Shanghai Amcham for mine). The Ritz is also cool for another reason – it was liberated in World War Two from the occupying Germans by Ernest Hemingway. Working as a war journalist and attached to an American infantry division, they fought their way into central Paris and eventually to the Place De Vendome. One suspects the Germans may have fled by this time, but Hemingway piled into the hotel with his troops – the German High Command for France had been billeted in the hotel during the occupation – walked into the "Small" bar to the side of the entrance and announced to the somewhat nervous barman stood there "I'm Ernest Hemingway with the US Army and we are liberating this hotel! A round of dry martinis for all the men on me please!"
That small bar is now the Bar Hemingway, named in his honor, and features a collection of artifacts from the great writers day – including his portable typewriter and many photos. Colin has now embellished this with collections of his own – a keen huntsman, Colin's trophy bags of various deer, wildebeeste and other such creatures stare down balefully at the drinkers beneath. However, its his Ritz Sidecar that really takes the breath (and the credit card) away. It is the classic mix of Cointreau, brandy and lemon juice. However, Colin makes one with a rare 1830 reserve cognac, of which there are only a few bottles left worldwide. It's uniqueness lies in the fact that the grapes from which it is made of were collected before the invasion of phylloxera, a pest that destroyed valuable varieties of grapes in France in 60's before the last century. It's also priced at USD1,400 a glass. I was allowed to cuddle the cognac bottle for a few seconds however.
Consequently I settled instead – not for a martini – but for a French 75, another classic cocktail, and Colin makes it – as befits the greatest living barman in the world – to perfection. The French 75 wasn't invented at the Ritz – but it is Parisian, being made from Gin, Champagne, lemon juice, and sugar. It was actually created in 1915 at another Paris landmark, Harry's New York Bar by barman Harry MacElhone. The combination was said to have such a kick that it felt like being shelled with the powerful French 75mm howitzer artillery piece, also called a "75 Cocktail", or "Soixante Quinze" in French. It's a belter of a drink, and Hemingway I am sure knew it well. After two – I could hardly walk home. Hemingway would have been proud.