I was lucky enough this past weekend to attend a rare evening at Beijing's National Center for the Performing Arts (known locally as the Egg) just behind the Great Hall of the People on Tiananmen. I've been several times to different events; however this was my first occasion to view the National Ballet Company. On offer was a danced version of "Eugene Onegin" – Pushkin's poem of tragic love and jealousy gone wrong. Backed up by the National Ballet's own symphony orchestra (I don't know of any other ballet company to have their own dedicated orchestra!) the music on offer was Tchaikovsky – but not from his score to the opera of the same name. Instead, the orchestra played Kurt-Heinz Stolze's orchestration of Tchaikovsky's "Seasons" and themes from Rimini.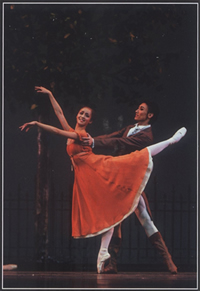 caption : Count Lensky dances with Olga
I have to say the performance was quite excellent. The settings and costumes – all circa St. Petersburg in the 1780's – were exemplary, and the dancing quite exquisite. Compared to Western male ballet dancers (some of whom's leg muscles, I have to say, would not look out of place of professional wrestlers) the Chinese male dancers were slim and willowy by comparison, yet tall, and it appeared no problem as they held Tatiana, Olga and various other girls at Count Gremin's ball above their heads or carousoling around the dance floor. Of special note where the dancers Wang Qimin, one of three Prima Ballerinas, and Sheng Shidong, whose love dance as Gremin with Tatiana (Zhu Yan) was sublime.
The Chinese National Ballet Company is fifty years old this year – I strongly advise you to catch one of the many performances they are putting on to celebrate.