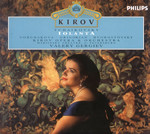 I'm a big fan of Opera, having previously sung in various productions (I'm a tenor) and have a particular liking for Russian opera, with all its great choral work and dastardly plots. (I wasn't that good a tenor, hence my empathy for the chorus line, being shoved in the back to tweet merrily with others of my ilk). Tchaikovsky of course needs no introduction as one of modern Russia's most gifted and prolific composers, however he tends to be known more for his ballets than opera. In fact, he wrote several operas, with Eugene Onegin and Queen of Spades being the best known, and Sleeping Beauty and Swan Lake being his best loved ballets. However, it's Tchaikovsky's lesser operas that I find more satisfying, and it was with interest I came across a hard to find CD of "Iolanthe" being performed by the Kirov Orchestra under the baton of Valery Gergiev
Russia's best known conductor, performed at the Mariinsky Theatre.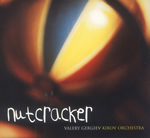 Iolanthe was written in 1891, and was to be Tchaikovsky's last opera. It's a one act piece, and unusually for Russian Opera, is a remarkably carefree tale about a young, blind Princess, who ultimately is cured and finds the love of her life at the same time. No deadly duels, ghostly interventions or loveless greed here. Demonstrating the opulence of the time, it was also scheduled to be part of a double bill – with Tchaikovky's ballet "The Nutcracker" to be shown after the dining intermission. The first performances of both took place at the Mariinsky on 18th December 1892, and were a great success. Difficult, for economic reasons in hiring both an Opera company and a Ballet Company for the same Theatre on the same day, they are rarely, if ever played together these days. However, for an evenings entertainment it's well worth an experiment. The recordings depicted are both from the Kirov and well worth looking out for – really, performances at the Mariinsky, under the watchful eye of Gergiev are as good as it gets for the Russian classics. Personally, I would have thought that the ballet "Sleeping Beauty" in terms of its content would have made for a better partner for Iolanthe than The Nutcracker, by it would be churlish to argue with Tchaikovsky's Christmas package.
I'm shortly to get the opportunity to see Iolanthe for real – at the Mariinsky no less, with the beautiful Anna Netrebko as she kicks off the Mariinsky's autumn season, with Gergiev, at the end of September in St. Petersburg. That will be a real treat, but for now – the opera and the ballet recordings make an excellent weekends entertainment in the finer arts of life.