Tchaikovsky "Vakula The Smith" / "Cherevichki" / "The Slippers"

A silly but entertaining yarn set on Christmas Eve, The widow Solokha agrees to help the Devil steal the moon. The Devil is annoyed with Solokha's son Vakula who painted an icon mocking him, and decides to create a snowstorm to prevent Vakula from seeing his beloved Oxana. Vakula enters and watches her admiring herself. She teases him, and he says he loves her. Chub comes back out of the storm, and Vakula, not recognizing him, chases him out by striking him. Seeing what he has done, Oxana sends Vakula away in a miserable state. Young people from the village come around singing Ukrainian Christmas carols. Oxana realizes she still loves Vakula. Three men and the Devil wind up in three sacks at Solokha's hut after successively trying to seduce her, and Vakula winds up hauling the heavy sacks away. Outside three groups of carollers contend. Oxana shames Vakula into getting her the Tsaritsa's boots or else she won't marry him. The Devil takes Vakula away as Russian and Cossack dances commence. The next scene takes place at the town square on a bright Christmas morning. Solokha and Oxana think Vakula has drowned himself and mourn for him. Oxana runs off weeping when villagers invite her to the Christmas feast. Vakula returns with the boots, asks Chub to forgive him for the beating and asks for Oxana's hand in marriage. She enters, tells Vakula that she wants him, not the silly boots. Chub calls for the kobzari (the lutenists), and everyone celebrates. The opera premiered at the Mariinsky in 1876, however Tchaikovsky revised it in 1885 as Cherevichki (The Slippers) and it is usually seen now under this title.
Rimsky-Korsakov "The Snow Maiden"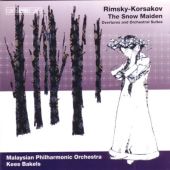 Rimsky himself regarded this opera as "my ninth symphony" and was especially fond of it. Often coupled with "May Night" as a pairing of Spring Operas, "The Snow Maiden" is decidedly chilly in a way only Russian opera can be. The story deals with the opposition of eternal forces of nature and involves the interactions of mythological characters (Frost, Spring, Wood-Sprite), real people (Kupava, Mizgir'), and those in-between, half-mythical, half-real (Snow Maiden, Lel', Berendey). The story deals with the folk story of the Snow Maiden, who appears cold and unloving, but in reality desires love and warmth amongst humans. There's some fantastic choral work as one would expect from Russian opera, and some great village scenes. But bring hankies, the ending is a truly Russian combination of love and tragedy. It premiered in 1882 at the Mariinsky.
Rimsky-Korsakov "Christmas Eve"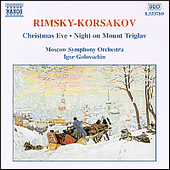 Rimsky-Korsakov based his opera on a short story, "Christmas Eve", from Nikolay Gogol's Evenings on a Farm Near Dikanka. The story had been used as the basis for an opera at least three times previously, including for Tchaikovsky's Vakula the Smith, however Rimsky-Korsakov gives it a lighthearted, jolly feel and the scenes with the festivities are truly seasonal, incorporating Russian Christmas carols and folk songs that will immediately prove hummable and recognizable. Great fun. It premiered in 1895 in St. Petersburg.