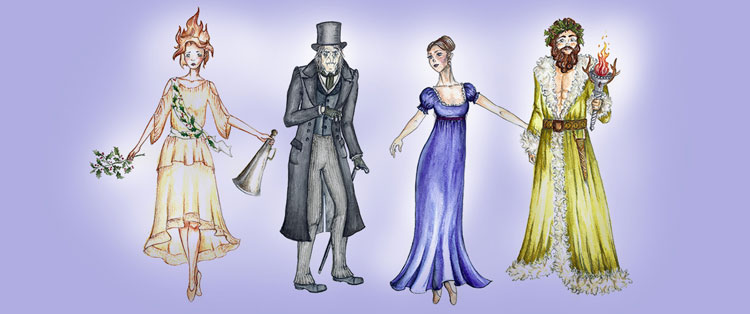 As is my tradition, I spend New Years Eve and the Orthodox Christmas (January 7th) is Russia, usually at my St. Petersburg apartment. The Russians celebrate New Year with enthusiasm just as everyone else does, and unless I get my annual share of winter snow, icy temperatures and that feeling of Christmas spirit at this time, I don't feel quite right for the next twelve months. A cold traditional Christmas has become rather more than an annual celebratory event, it has become a necessity.
The Russians of course have much to celebrate, especially in terms of their own appreciation of the Christmas spirit, as well as their love of traditional stories and the comradeship that harsh winters bring. The city of St.Petersburg is one of the most beautiful, and all that Italian grandeur fits well with a sub-zero climate. The Russians generally are amongst the most literate people, and great stories are always revered here. So the surprise is not that Charles Dickens masterpiece "A Christmas Carol" is now a ballet, it is just that it has taken so long – the book was published in 1843.
However, Ivan Vasiliev, the Principal Dancer of the Mikhailovsky Theatre, has choreographed a full two hour ballet, resplendent with Scrooge, Ghosts, Tiny Tim and the Crachetts, and without dialogue enabled to portray a classic story that keeps both adults and young children rooted to their seats during this time; no easy task for young children already excited at the prospect later in the evening of receiving presents from Grandfather Frost.
This was the Premiere, and was suitably held at the Hermitage Theatre, built by Catherine the Great, herself a great opera and ballet lover. Vasiliev himself played a suitably mean looking Scrooge, who was then tormented by The Ghosts of Christmas Past, the lovely Veronika Ignatieva, Present (Marat Shemyunov), and Future (the very scary Valeryia Zapasnikova) all of who give Scrooge a right Imperial run around. Scrooge's fear as he is shown the Future and his own demise, with Zapasnikova transforming into death, laughing as all his money is poured into his tomb. This ballet manages to both frighten, and hammer home the perils of avarice and greed to young and old alike.
The cast took several curtain calls, and as I left with the curtain well and truly down, cheers of celebration were heard from backstage. Ivan Vasiliev has produced a new ballet that should be given a chance to enter the repertoire; a well loved and universally appreciated Christmas classic, brilliantly adapted for dance.
Vasiliev used music by Tchaikovsky for the score, which lends the ballet a sense of appropriate Victorian time frame, allows for full use of Tchaikovsky's sweeping movements, so often found suitable for dance, yet sensibly opts for lesser known passages of the composers work, dance fragments from the symphonies, even excerpts from lesser pieces such as "The Seasons" and his Cello Concerto make their way into this production. It's a successful ploy, there is little mileage to be had to revamping music from the Nutcracker or Swan Lake, it would become predictive and a pastiche. Instead, Vasiliev's use of lesser works both adds a new dimension to the ballet and keeps one guessing as to where that piece of music was originally taken from. It's been painstakingly pieced together and works as a whole. Well done to all involved.