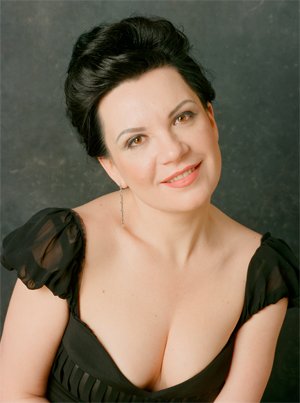 The Mariinsky's annual White Nights Festival takes in not just opera and ballet but also more intimate performances. Hence we have the wonderful mezzo-soprano Ekaterina Semenchuk – usually to be seen on stage performing Boris Gudonov, the Queen of Spades, Valkyrie, Il Trovadore and so on, presenting some of the 19th century Russian salon romances.
Graduating from the Rimsky-Korsakov Conservatory in St.Petersburg, she is one of the new batch of global operatic stars, and sang at Prince Charles wedding to Camilla Parker-Bowles.
Russian romances however are a different ball game – tales of doomed love, unrequited love, passionate love and odes to both the joys and despairs of life, they are often miniatures in cameo; a blend of piano and emotion that comes through in extraordinary clarity of nuance. It helps that Russian is a very powerful and romantic language.
Accompanied by Dmitry Yefimov on piano, the recital presented two halves of Medtner and Rachmaninov songs.
Nikolai Medtner
Our Time, Prayer, Oh, My Prophetic Soul, Day and Night, Noon, The Butterfly, Only Roses Fade, Insomnia, I Can't Forget that Sweet Moment, Twilight, He Wanted My Madness, Willow, Why Do You Bend Your Crown, Serenade, Song of the Night
Sergei Rachmaninoff
In the Silence of the Secret Night, Child, Your Beauty is Like a Flower, I Fell in Love at My Sadness, She Is as Beautiful as Midday, Lilacs, The Water Lily, Don't Be Sad, Christ Is Risen, We Shall Rest, Do not Sing, My Beauty, How Fair this Spot, Spring Waters
A sample of her singing – this time Tchaikovsky – is here: