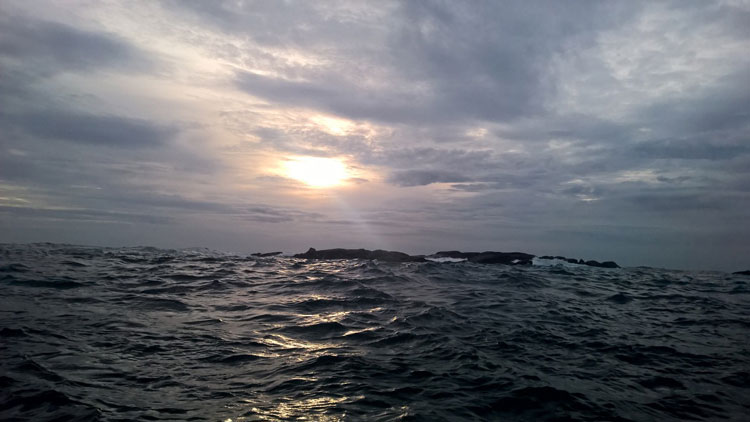 I'm back to Sri Lanka for the Winter months, and what better way to re-acquaint myself with the local scenery than spend a few hours out fishing. I have nothing in the larder, the cupboard is bare after months spent in Europe, so I really do need to fish for my supper.
The best time is early morning or evening, and I've opted for dusk, leaving the shore at about 5pm. The Indian Ocean is still fairly rough, with the recent supermoon – the largest since 1948 – exerting a huge pull on the waves. It is a big swell out there today of about eight-nine feet, and even the dangerous underwater rocks that crowd out part of Unawatuna Bay are exposed as the waves surge back and forth and crash over them. It can be a deadly spot – there are wrecks just here, of small to medium fishing boats that ventured just a little too close. I know from diving just here the currents are strong too. Its an area deserving of some respect and I give the rocks and undersea breakers a wide berth as I motor around and out into open Ocean.
I'm trolling, which means heavy duty rods, reels and line, and although I'm not expecting a huge catch I do need to attract something tasty or I will go hungry. I'm using three different coloured lures, green, orange and brown, sardine shaped, between six-eight inches long, armed with inch long three pronged barbs. Its quality I want today, not quality. If I want kilos of fish I'll just drop a line over the side by the reef. But I'm looking for a carnivore.
Trolling is fairly easy, being several hours of meandering about waiting for a bite, which when taken means at least ten minutes of mayhem, havoc and chaos among chattering, screaming lines and sweating muscles. My skipper tells me the largest fish he's had on this route is a 50kg Grouper.  Usually I'd be with buddies and be breaking out beers and a bottle of local Arrack a'la Hemingway to pass the time, but I'm on my own for this trip. An hour passes, as we head out west towards the Maldives, about 2km offshore as Fort, the 16th century Dutch fortress and Lighthouse slip past to starboard.
We circle around, the sun a silvery disk, still a little too high for a catch. A couple of oil refining ships are passed, at anchor, with black African crew scrubbing the deck. I wave; they look bemused, but do wave back. Unlike me, they will have been at sea for months and may even be away from family for years at a time. The sun's perfect circle is disrupted by clouds, and I notice the temperature start to drop, it'll be beneath the waves in 30 minutes, eaten by the Egyptian Jackal, who forever fights the Gods for its return the next morning. As he's lost that particular struggle every day for the past 8,000 years you'd have thought him a tired beast, but Jackals are persistent creatures.
Suddenly, while my thoughts are with Pharaonic deities, one of the reels shrieks – something has taken the lure. I need to act fast, and cut the engine, lest the best struggle loose from the hook, and give the rod a quick yet subtle jerk and begin to haul in. It's not a long line, and I can see a decent enough sized silver streak come towards me – then out of the water and a very angry, thrashing, grimacing Spanish Mackerel appears at the end of the line. He's wild, and I gaff him quickly to ensure he doesn't wrestle loose. He's on the deck, and will do just nicely, he's about 2.5kg and a little under two feet long.
Spanish Mackerel are a quality eating fish, and this is going to be a great dinner. I'm on my way back now, satisfied with just the one, and although the lines are recast, nothing else bites until we reluctantly put into shore.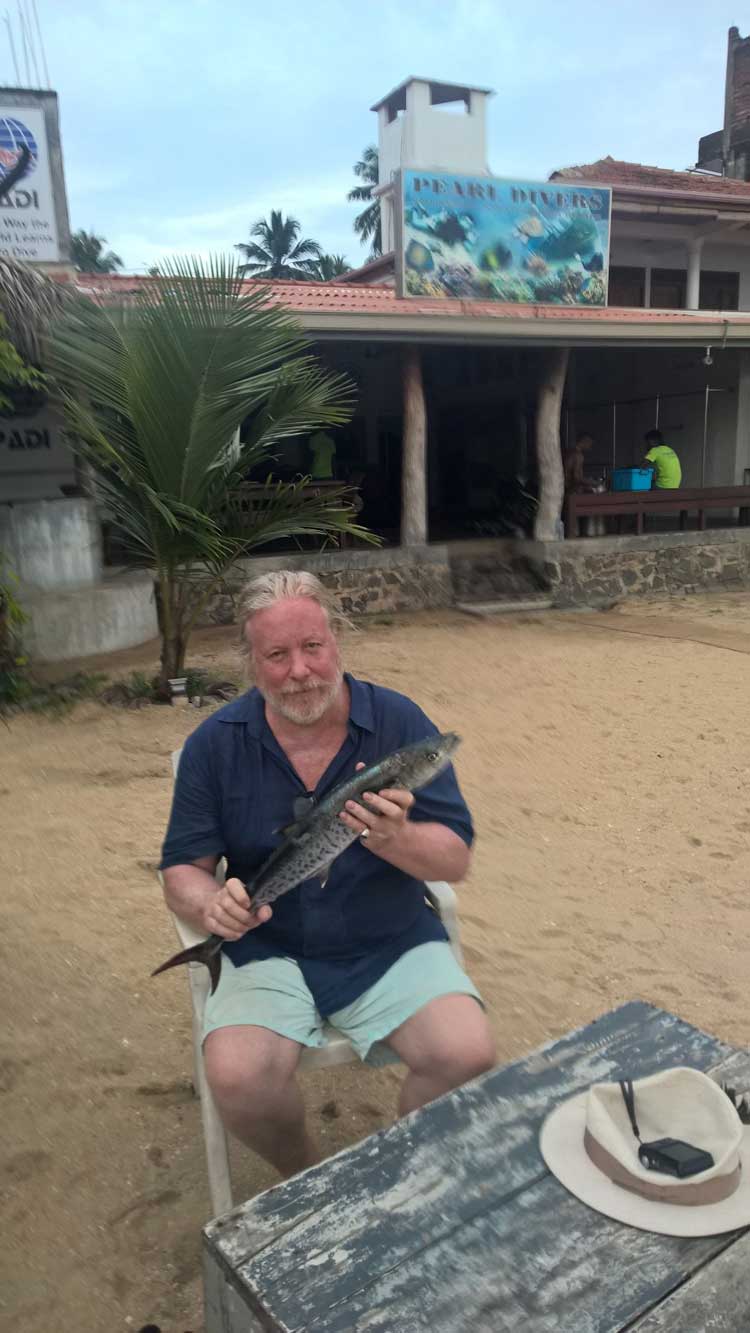 I have a local Lion beer ashore, wash off the crap and blood from my hands, and make my way home via Tuk-Tuk. I place him on the kitchen sink, and with a few surgical moves, clean and de-fin him. I decide upon a simple fresh tomato and cucumber salad, mashed potato with garlic, and prepare a dressing for the fish.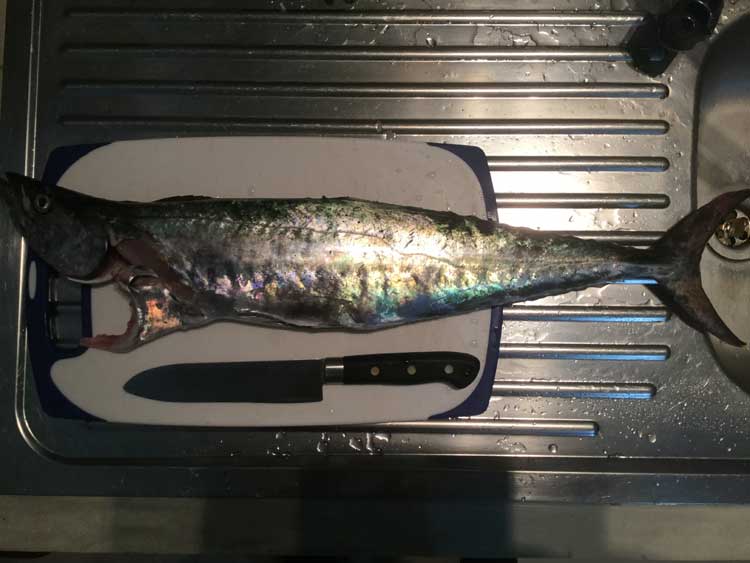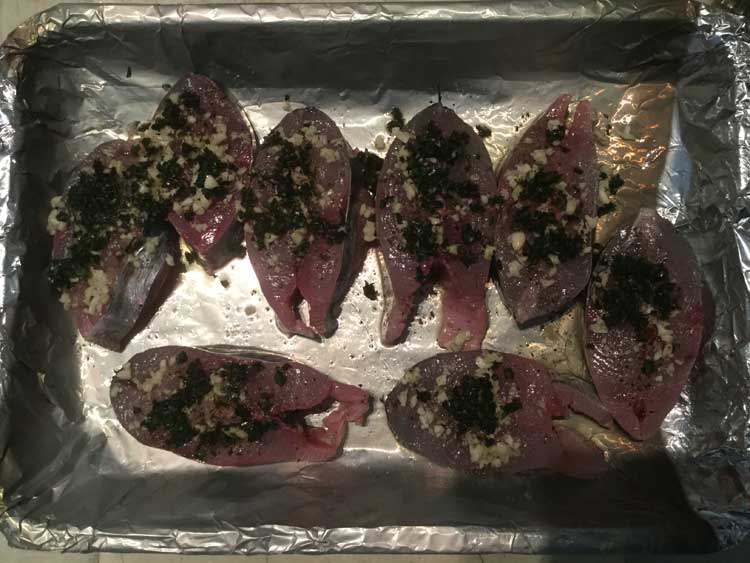 I prepare steaks, and in a foil covered pan, drizzle in some olive oil. Ocean Fresh Mackerel are some of the finest fish available, but the key is to consume them within 3-4 hours, ideally before rigor mortis sets in. After that they are still good but lack the extra special taste of the ocean. It is a fish well worth looking for and trying to catch your own, the effort is well worth it. I also want to preserve the taste of the fish, and accentuate it rather than attempt to change it. All this needs then is a squeeze of fresh lemon, a sprinkle of sea salt and black pepper, followed by chopped basil and garlic, on both sides of the steak. I grill them for seven minutes each side. They are perfect, and worthy of the finest gourmet accolades. Ocean Fresh Mackerel is a worthy fish, fit for a welcome return home.