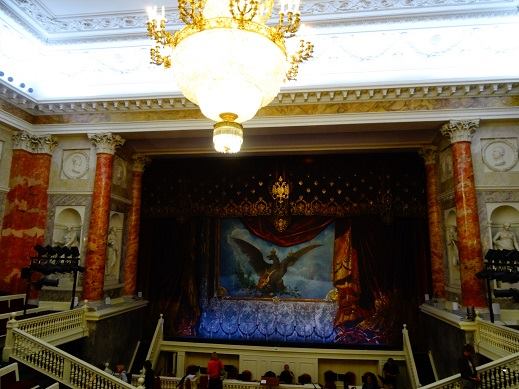 Catherine the Great was a great art lover and was responsible for introducing opera to Russia, hiring many important Italian composers to produce operas specifically for the Court and for consumption throughout the country. The development lineage of opera in Russia is quite unique; the first opera shown in Russia was "Calandro" by Giovanni Ristori and was presented in Moscow in 1731. After that, many Italians, including the renowned Francesco Araja, decamped to St. Petersburg to write operas, in Italian, but featuring Russian motifs. Araja spent 25 years in St.Petersburg and wrote an astonishing fourteen operas specifically for Russia. Many are now lost or forgotten, however Cecilia Bartolli's recent CD, simply titled "St.Petersburg" which was researched at the Hermitage and Mariinsky archives and documents many of the arias from this period; including some of Araja's work.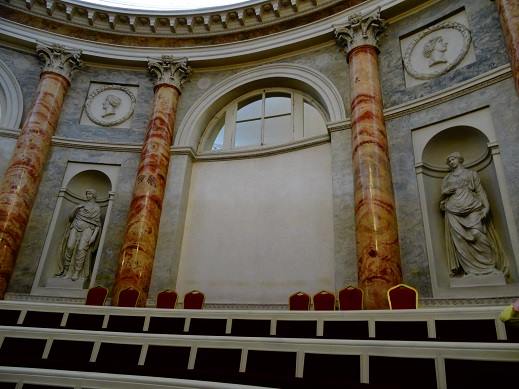 The first opera to be written and performed in Russian was "Tsefal I Prokris" (Cephalus and Prokris), also scored by  Araja, but with a Russian librettist, from the ancient Greek tragedy in 1755. The Italian architect Rastrelli, whose statue stands outside my St.Petersburg apartment   built the Opera House in what was then the Winter Palace, (now the Hermitage) to accommodate about 1,000 people. It was here that Empresses, including Catherine, showed off Premieres of the time as well as occasional self written operas – Catherine is known to have written and produced nine operas, assisted by well known composers of the time.
The Italian dominance of Russian opera continued, albeit with increasing Russian attentions, with cross-fertilization via Catherine sending the promising young Russian composers Berezovsky and Bortniansky to Italy to study in 1769. Both produced Italian and French librettos. It wasn't until 1772 that a Russian opera, written in Russian by a Russian composer surfaced. The work has been lost, but is known to have been titled "Anyuta" and is reputed to have been written by Mikhail Popov. Russian composers Pashkevitch and Fomin also tried their hands at producing Russian operas, although these remained very Italian in style. The big breakthrough of what could really be termed a Russian themed opera, both in terms of the libretto and the musical style didn't come until Mikhail Glinka's "Ivan Susanin" (now known as "A Life For the Tsar") in 1836.
Today, the Hermitage Theatre is invitation only, and produces occasional galas. It was to this I was fortunate to be able to attend, with a selection of ballet Pas de Deux and well known Russian operatic arias. It is of course, a magnificent setting, and one can imagine Catherine, sitting in her Royal Box, enjoying the spectacle just as much as I did.