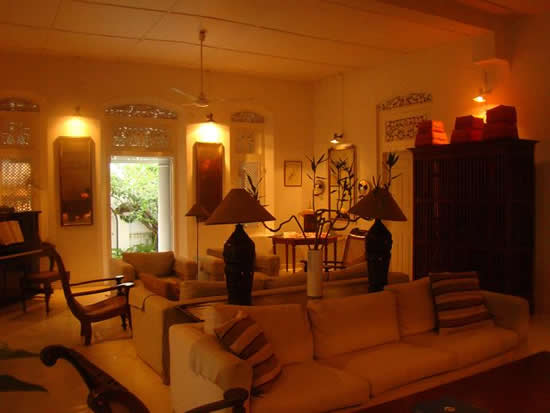 Running around Asia – with regular trips to the US – can be a tiring occupation, not least as because both China and India have massive populations and can get very crowded. I've been lucky enough to visit Sri Lanka many times, and now that finally the civil war with the Tamil Tigers is over, improvements to infrastructure are now being made. It's a huge island – and markedly different wherever you go. I have friends that live upcountry in Dambulla, about two hours drive north from Kandy, where they are building an estate, and wild elephants roam. I prefer however the relative calm of watching the oceans, and I prefer the south east of the island, as the coast swings back north away from the southern tip of Fort Galle. Galle is an imposing place, built by the Portugese 400 years ago, and remains very much a walled fortress. It's home to the Sri Lankan cricket team, who often play test matches there, and is also home to an important annual Asian literary festival as well as one of my favorite sports, elephant polo where they now have an annual competition. Consequently there is a reasonable amount of culture around Galle, and a high standard of places to stay and things to see. Sri Lanka still maintains a great deal of that old British colonialism – the style and the sense of tropical grandeur, but now without the racist overtones that marred the days of the Raj.
Galle however, while great, is rather too busy for me, so I'm looking for a spot further north, up the east coast, probably around the Unawattuna (wonderful name huh?) area. There are turtle farms up there (Sri Lanka is home to five of the worlds seven species) and long, lonely beaches perfect for walking. I'm not so sure about getting somewhere right on the beach, I think the salt air may play havoc with books and computers, but perhaps somewhere few hundred yards inland, enough to keep out of the way of bad storms, yet close enough to walk the dogs if I want. The search continues – I haven't found anywhere yet – but I have seen plenty. Both the Dutch and the Brits build some amazing bungalows, and although some are in better repair than others, they can still be found. I love the way the gap between outdoors and indoors is typically preserved in a veranda, out of the rains, yet getting the breeze while retaining the shelter.
While it gets cold in Northern Asia, Beijing & Delhi (where I spend a lot of business time), Sri Lanka offers a tranquil haven, fresh coconuts, mangos, tuna straight off the boat, huge crabs and amazing seafood. That's all good to me, and what better way to get away from it all than that.