One of the great pleasures about traveling around Greater India (over the past twelve months I have visited India eight times, Sri Lanka twice, and Nepal and the Maldives once) are the gem dealers that set up shop everywhere and are so prevalent. Highly knowledgeable they are too, often being family businesses that have remained so for several generations. They vary from the wooden stores and wizened Muslim dealers in Katmandu, to the efficient, well-meaning and dynamic Sri Lankan traders, many with their own mines, to the grand, such as the gem dealer in the Taj in Bombay. Experts all, they have prices for all budgets, so one doesn't need to be alarmed by the prospect of entering. All I have found genuinely helpful and educational.
While I know a bit about gems, I am just as happy finding a rose crystal cabochon with a delightful amber colored inclusion for USD5 as I am examining a priceless stone weighing hundreds of carats. My budgets, however run more to the lower end of the market, but there is nothing as satisfying as poring over a table top covered with Rajasthani garnets or yellow topaz to pick out the best pieces. While Tiffany and Cartier demand respect, and certainly a hefty wallet, I tend to think of them as designers, rather than gemologists. Examining loose gems demands more from the buyer, a moderate amount of basic knowledge, and an ability to imagine a design. While everyone is aware of the precious stones – Diamonds, Sapphires, Rubies and Emeralds, not so many are conversant with Tourmalines, Aquamarines, Peridots or the Tanzanites of this world, let alone the hundreds of other different gems, both rare and ordinary. Even quartz, one of the most common materials on the planet, can look spectacular when well cut.
Accordingly these; the so called semi-precious stones – can be just as brilliant and a huge amount less expensive than their heavyweight cousins. An exquisitely cut 2ct Tourmaline can be had for USD20 a stone in Sri Lanka, and OK, one has to travel there, but if one has the happy ability to do so, building a collection of jewelry can be a fun, and not so expensive pastime. While options for men's jewelry remain limited, girlfriend's wives or lovers will thank you for it. And I certainly, never wear Dunhill cufflinks these days.
Anyway, while visiting my friend Ravi who is the son of the charming Parsi Gentleman who owns the Taj jewelers, he asked if I'd like to see some of his families private collection. I would, and I could also take photos? So here are some of the most marvelous gems I have ever seen, and although way out of my league in purchase price, they are beautiful. Actually, these stones are so big, they really are for collectors. Too heavy to be worn, they are for admiring the gem itself, and the workmanship. Ravi also let slip that his family never invests in stock markets, only gems. While he hopes they never have to sell, he says that he can always get them out of the safe and share their common beauty with friends. Here then, are a handful of Ravi's best gems, all the size of the proverbial hen's egg:
Aquamarine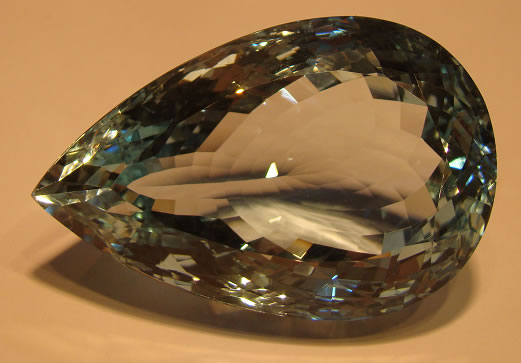 Ravi's family own an Aquamarine mine in South India, one of the finest sources. This stone, when rough weighed over 500 carats, which is huge. Cut, this is now a 135ct stone. It's not for sale.
Peridot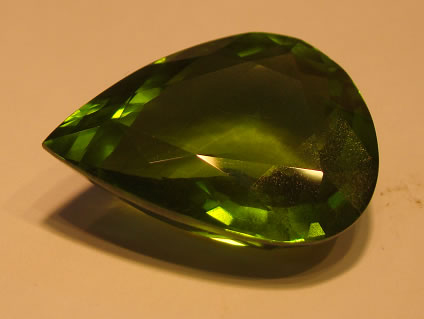 Peridot has a very distinctive color, and is usually a clearer stone than Emerald, which it can resemble. This is a 42ct stone. To buy this would be about USD5,000. Most Peridot's come in about 3 – 5 carat sizes, larger ones are rare. It goes very well either on its own or paired with pink tourmalines or garnets.

Sapphire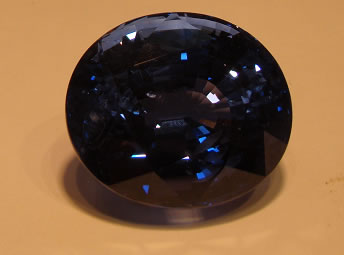 The best Sapphires come from Sri Lanka, and very fine they are too. This however, is a Burmese stone, and weighs in at 75 carats. I didn't ask the value!

Tanzanite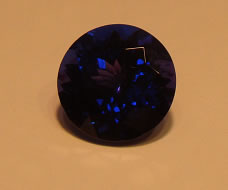 Tanzanite, as the name suggests, comes from Tanzania. It's a lovely deep blue, purple gem, and the best ones when cut also give off pink hues also. Quite distinctive. Tanzanite is rocketing in value, the mines are worked out and the Tanzanian government has now banned exports. Current prices reach about USD500 a carat and are poised to go far higher. This gem is 7.8ct.
While these are all very rare, and very expensive, collections need not be so. If you do have the ability to travel around India, stop off at one of the many gem dealers and ask to see their loose stones. You can find, as I mentioned, beautiful gems, well cut, and at affordable prices for even just a few dollars per gem. Stones to look out for at the lower end (you still have to get them made up, which adds of course usually the price of gold into your acquisition) would be garnets, yellow topaz, aquamarine, peridot, fancy sapphires (these come in all sorts of colors) and my favorites, Tourmalines, which Express Cixi of China apparently absolutely adored. Even stones such as rose and smoky quartz, when cut well, can look very fine indeed. If you can couple that with a decent handbook to research the subject – you may – as I did – get the bug. And if you do, that's huge kudos from girlfriend/wife at birthdays and Christmas.

Cufflinks



Here you can see four cufflink sets I had made up – I use a jeweler in Beijing, but Hong Kong and other cities also have good goldsmiths, while of course silver is perfectly acceptable as well. From left to right – rose quartz, aquamarine, peridot, yellow topaz. None of these stones cost more than USD50, (the rose quartz were just five) while even with the gold content it worked out less expensive – and more fun – than splashing out with the big names for a set.
A good website for a browse around for India Gems is here