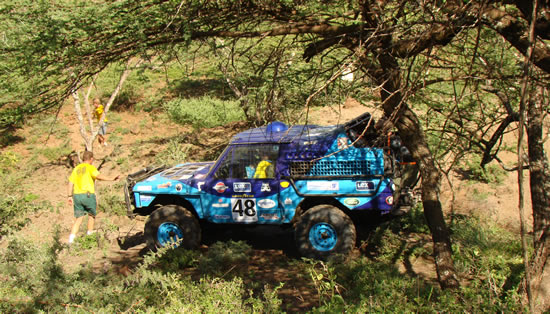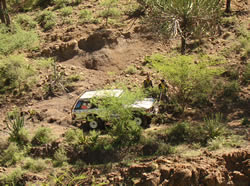 I've been in Kenya, near to Lake Baringo, the past week to participate in the annual Rhino Charge which takes place each year at different locations throuighout the country. Theevent, now in it's 21st year, is designed to raise money to build a 400km fence in the Aberdare Conservation area – to keep Rhino and other animals in, and poachers and encroaching tribes out. THis years event marked the completion of enough funds to complete the fence. Vehicles – mainly Land Rovers, Land Cruisers and Unimogs, compete over a gruelling course, comprising 13 stations. Each team must visit all stations over a period of eight hours, in the shortest possible distance. Terrain ranges from teetering alongside 400 foot drops, to clambering and winching over huge boulders, to crashing through the bush.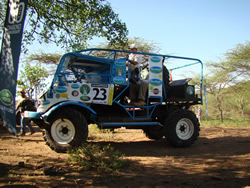 The event is split up into two categories, modified and unmodified vehicles, and really, for terrain like this, you need some serious kit . Here, Unimogs (Mercedes) would appear to have the upper hand, as would any vehicle using a higher chassis base and what essentially amount to tractor tires. However, such clearance comes at a price – while great from clambering over boulders and ravines, the higher center of gravity makes them unsuitable for crawling around steep hills at an angle – and several tipped over, to be sent crashing, in one instance, 400 feet before it came to a rest (the driver survived after being airlifted to Nairobi hospital by chopper). It's not a sport either for the faint hearted or the economically challenged.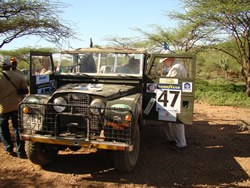 We of course plumped for representing Land Rover and it was with much pleasure the winners of the unmodified section were announced – a team of four Polish Princesses competing in a 1956 Series One Land Rover, quite literally in twin sets and pearls.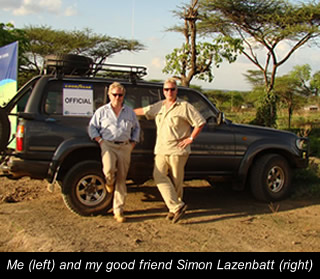 This years event raised close to USD800,000 for conservation of the area, and it was immensely satisfying to have been there. Next year – a Dezan Shira team !