Unawattuna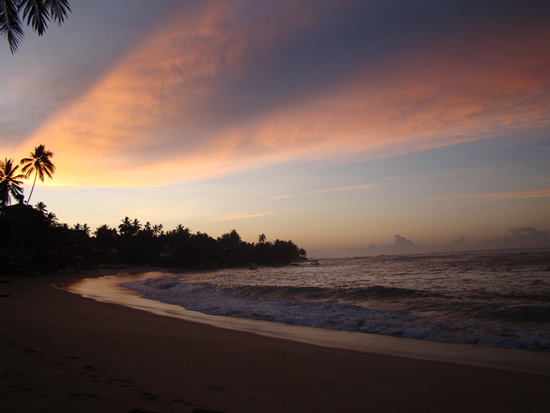 It's only a short hop from Chennai, on India's south-east coast to Colombo in Sri Lanka, and the home of my good friend, Simon and his wife Pauline. Retired now from positions in both Kenya and China, Simon lives in Kandy, Sri Lanka's central city, and is slowly building for himself on about 10 acres of land at Nuala a ranch from which he can pontificate upon life, the comings and goings of the local wild elephant, the remarkable plumage of the Indian Pita, and all while downing a chilled pink gin. Lucky bugger. However, I don't have the time to catch the train to Kandy, and am instead to meet with him in Colombo, but not before I've taken a five day rest in the wonderfully named Unawattuna resort in the far south of the island, a little further on from Fort Galle.
One nights stay in the Hilton Colombo (the best place to stay imo) and I'm in a hire car whizzing down the east coast. Three and a half hours later, and arrival sees me unpack my suitcase full of business suits and shirts, and get out the shorts and loud tropical shirts for the occasion. The resort is right on the beach, the large rollers breaking in just thirty feet away. A local beach dog sniffs at my feet, notices I don't order any food, and sidles off to watch any developments from afar. Disappointingly for doggy, I order an Arrack Daiquiri and settle in to watch the waves. Arrack is the local hooch here, and distilled from coconut water it is very good indeed. Rum like in appearance, and to some extent taste, it's neither too fiery nor complex, and it is pleasingly coconutty. Neither should Daiquiris be too complex either, I'm not into the frozen strawberry nonsense's. Just fresh lime juice, and soft brown sugar to sweeten. For a longer drink, just add fresh coconut milk. The sun goes down, and reveals a sky full array of purples, gold's and crimsons. I tuck into my Salman Rushdie novel and prepare to do very little for the next week.
Fort Galle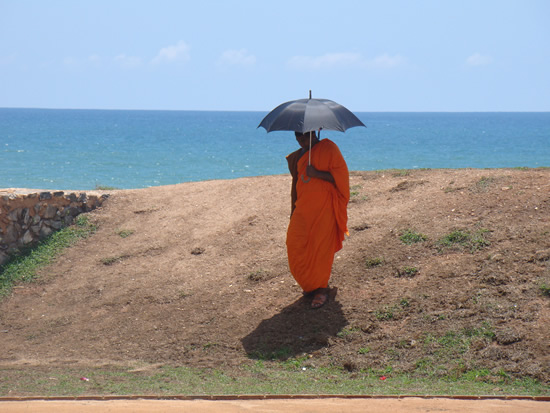 Galle is an old Dutch fort, on Sri Lanka's southern tip, and a UNESCO world heritage site. It's a charming location, surrounded as the name suggests by massive walls, and inside a labyrinth of lazy lanes, crooked houses, cafes, hotels and churches all vie for your inner peace. I want to see the fish market, which is just outside the main entrance, and what a sight! Piles of fresh anchovies, tuna, bonito, red snapper, and mud crabs are on display. Feeling hungry, I nip into the 16th century Hotel Galle and order a plate of anchovies and a bottle of the excellent local three coins beer. I visit a moonstone mine early evening and buy Meggie a nice polished cabochon for a ring, and two longer ones for a pair of cufflinks for myself. The mine owner explains the best stones have a bluish hue, and these certainly do. Checking online later, I find he is absolutely correct. He's also told me that in Sri Lanka, on a full moon, it never rains, and that when you wear moonstones, you will never cry. That sounds like a good deal, and I'm happy I got them direct from the mine.
Voyages To Come
My friend Andreas, an engineer based in Shanghai, has been having a yacht built in the Cape Town Boatyards. It's finally ready in August, and there's an opportunity to crew, as it has to travel back to Phuket, in Thailand, where it is going to live. The trip alone is a five week voyage, from Cape Town, then stopping off at Madagascar, The Seychelles, The Maldives, Sri Lanka, then to Phuket. The problem is I haven't really sailed very much recently (apart from competing in Thailand's King's Cup a few years back) and I really need to take a course to get up to speed again for a trip like that. However, that's another month studying, meaning close to three months vacation this year. Daiquiri's that evening help however as I decide it's too good a life opportunity to miss. The course I shall take in June, and I know I can trust my partners to look after the business for that length of time. In fact, with India developing, giving them more responsibility for China is a must. It all seems to fit, and an Africa to Asia adventure is now on the cards.
Colombo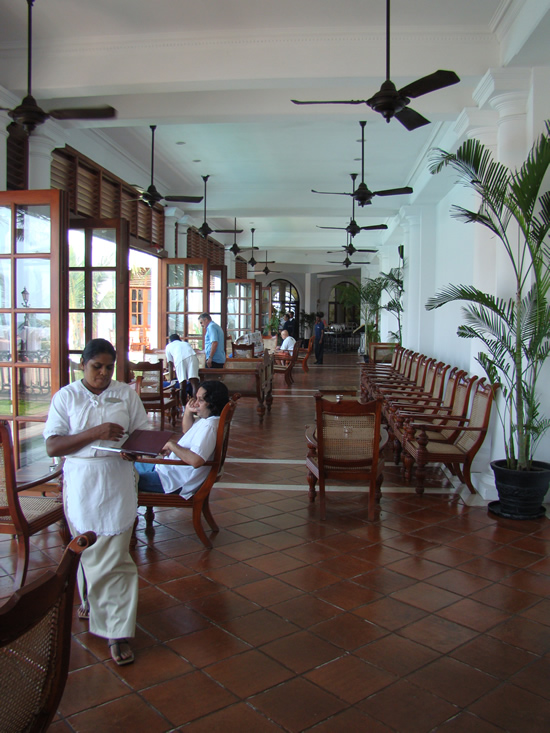 The five days in Unawattuna, doing nothing very much (snorkeling was attempted on an outlying reef, but it was too choppy to really see the bottom clearly) has done me a power of good and I set off to see Simon and Pauline at the Mount Lavinia Hotel, en route back to Colombo where a midnight flight awaits to take me back to Beijing. The Hotel is magnificent, originally built for a British Governor 200 years ago and named after his local lover, a dancer. Victorian etiquette frowned upon British dignitaries cavorting with the locals, so the chap did what any enterprising and thoroughly randy British Gentleman would do. He built an underground tunnel from the center of her village into his private garden, whereupon she would emerge, probably like Venus from a Clam, each evening to instruct him in the ways of the local foxtrot. It's a splendid initiative, alas impractical in Beijing as I live on the 20th floor of an apartment building. However, one has to applaud the effort, although I do wonder what he told the engineers constructing the tunnel what it was actually for.
En route, I have to buy flowers for Pauline, as it had been her birthday the previous day. Instructed by my driver the best place to buy flowers in Sri Lanka is at the funeral directors, I have a hunch this may prove to be something of an odyssey. I am proved right, because after two hours driving, he informs me there are no funeral directors to be found. I begin marveling at the obvious longevity and healthiness of Sri Lankans, when he asks me if plastic flowers will do. Hearing a very firm negative to this cunning plan, we eventually stop off at a local temple, where devotees are selling baskets of beautiful water lilies and white orchids to drape at the feet of the local Goddess within. They look bemused as I grab a bunch, gallop back into the car and speed off.
Lunch at the Lavinia is superb, and the hotel really is somewhere where I must stay next time I'm in Sri Lanka. Simon and Pauline are in good health, and Pauline is thrilled with the flowers, but having lived in Sri Lanka for awhile she guesses where I got them. Still it's better than a bouquet from a funeral directors. Come five minutes past midnight, I am on a Cathay Pacific flight to Hong Kong, with a connection to Beijing. March has been fun.