One of the things about running a business with numerous offices across China, India and elsewhere in Asia is that it's almost impossible to escape the huge numbers of people. Heaving masses of humanity – the great unwashed – in both China and India can, after a while, leave ones inner peace somewhat frayed around the edges. Also, as I intend to spend more time writing over the next few years, I need somewhere quiet. No dogs barking, no telephones ringing, and no constant traffic hum in the background.
Step forward then, Mongolia. As I'm based in Beijing, it's only a 90 minute flight to the capital, Ulaan Baatar, and has a population of just 2.8 million in an area three times the size of France. There are six horses to each Mongolian national, and about 35 sheep. From UB I can get out into the wilds of the Gobi Desert, or the hills of Terelj in about 45 minutes, accompanied only by Golden Eagles and the enormous sky. Consequently, last year I invested the princely sum of USD78,000 to purchase a third floor apartment from a German expat. It's sited in prime location just 5 minutes walk from Sukhbaatar Square (Mongolia's version of Tiananmen) and was built I understand by Chinese engineers back in the late 1950's. Solid as a cave, with walls two feet thick, it needed a bit of work doing to it – and that's what I've spent much of the past year involved with. That said, the work that needed doing turned out to be rather more than I had envisaged.
The wiring needed replacing throughout, the floor wasn't plumb, and some of the inner walls weren't straight. (well, what do you expect from 50 years old Chinese construction work?) But – the property was very sound, and warm – UB has a centralized central heating system for the city, which goes on and off at certain specific dates of the year regardless of the weather at the time. But having originally surveyed the property in December 2009, I knew that in Mongolia's savage winters – which can plummet to -40 below – that apartment would be as warm as toast.
Hiring a contractor to sort out the place was the next step – and when I went to review the work back in March I began to wonder what the fuck I had done. The floor was up, the ceiling was down, the walls were stripped, and the bathroom and kitchen pretty much destroyed. But keep faith, I told myself, and it will all come good. I wanted an Imperial Russian type theme, with chandeliers and ornate wallpaper, as well as Mongolian antique furniture and art, together with some of the trappings of the countries wildness attached. If it's to be my retreat, then it may as well reflect how I want it to look.
It all started coming together in May, when the floor was re-laid – the wood comes from old timbers used in the trans-Siberian railway sleepers. Walls were replastered, the ceiling fixed, and the two balcony doors widened – meaning part of the external walls had to be removed. A completely new bathroom was created, plus a second washroom, and the kitchen completely fitted out. With severe temperatures such as UB experiences, there's no point in messing about with cheap products (which are mainly of Chinese origin), I imported fittings and equipment instead from Germany.
Then, getting furnishings up was the next step. Mongolia has some very nice (and extremely expensive) antique trunks and smaller pieces, but otherwise most contemporary furniture there is imported low end stuff from China and Korea. A purchasing trip in Beijing to the quality furniture stores provided what I wanted – Qing style tables and chairs and so on. Then – in a stroke of genius, I remembered that the Westin Hotels sell their "Heavenly Bed" which is famous for being – well, heavenly. Manufactured in Shanghai, and costing a cool USD2,500, I ordered one, then had the entire lot shipped to Ulaan Baatar from Beijing. There, I hit a snag. Rail is at a premium in Mongolia – nearly all foodstuff is imported, and what with the country experiencing a mining boom, imports of essential equipment, government stock, and general foodstuffs take precedence over individually imported personal items. It took a month to arrive, having originally been told ten days. The bed, meanwhile was so big it had to be hauled up via a winch outside to the third floor balcony and then maneuvered in, it wouldn't fit going up the stairs.
But now it's all done. I have Ibex and Reindeer horns adorning the walls of the study, wolf skins on the settee and a bear skin on the bedroom floor. It's a retreat. It has also been a good investment – its doubled in value in 12 months. Now, I just have to get up there and use it. Mongolian property as a good quality investment. Who'd have thought it?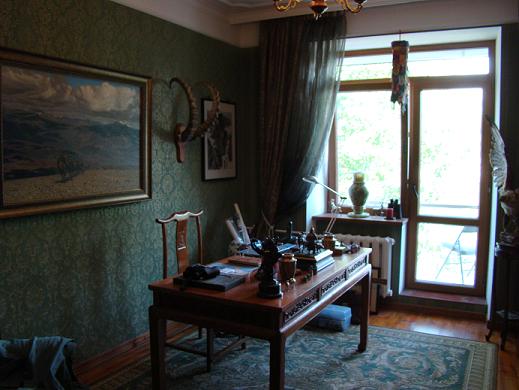 The Green Room – My study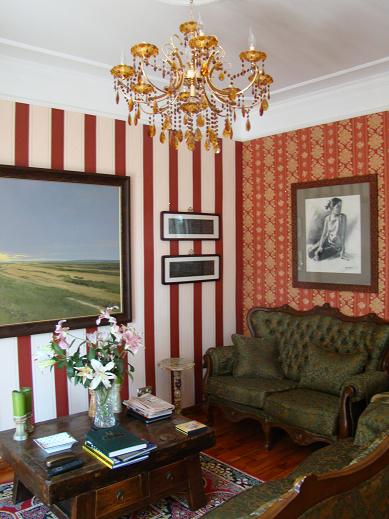 The Living Room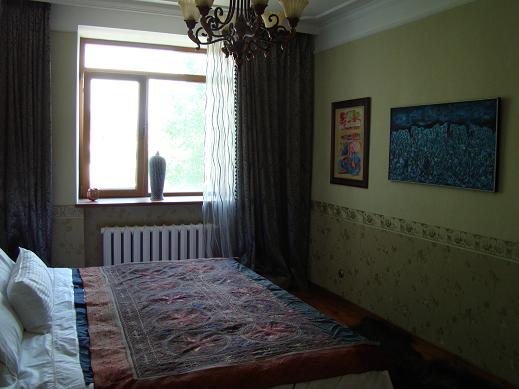 Master Bedroom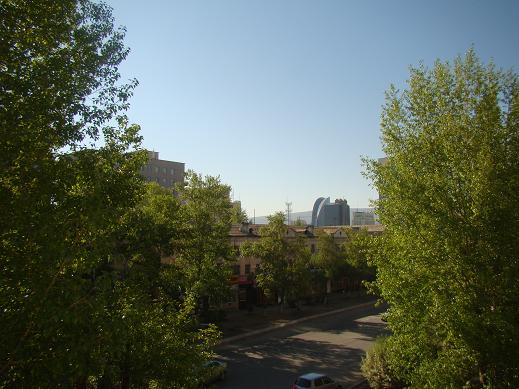 South-East View – Larch Trees & Sukhbaatar Square