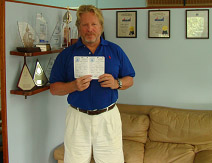 Well after four days of sitting lengthy afternoon exam papers, I finally completed them all – including a tricky navigation paper which was harder in the classroom than it was out at sea (where at least you can see and measure bearings and transit points for real. It's not the same on a chart) – I've qualified. Passed all exams with an average of 80 percent which is either "good" or "very good" depending on which paper you look at. The exams included Ocean Skipper, Navigation, Bare Boat Charter and so on…all accredited by the American Sailing Association courses. Pictured is me with my newly stamped and signed log book. I can now, should I want to, sail and skipper ocean going yachts (thats the big ones) from Shanghai to San Francisco, from Mumbai to Melbourne, or from Hong Kong to Honolulu. All of which sound like great ideas actually. I also get to be the Capital Club Beijing's new Commodore, having been invited into the role by the Club GM – if I passed. Hopefully I can now get the club to invest in a decent Jeanneau to save me from having to buy one now I'm about to step into that role.
However, joking aside, I am now entitled to use the rank "Commodore" – however it is a bit naff to put that on your business card, so it'll remain a club thing only, although it does open up entrance into some exclusive yacht clubs around the world. The next step is the sea trials off the South African coast that my friend Andreas Wagner is about to embark on. The story of his, purpose built, 44 foot yacht is here , and the vessel gets launched on August 3rd. I'll be meeting Andreas in Cape Town to assist with some of the sea trials, and generally see what she's made of. We're too late this year to sail her back to Asia, which was the original intention, however, the delaay means we can get in some practice on some serious seas. The Indian Ocean can throw up some mighty big waves and storms and we need to be familiar with handling those. The gap between now and catching 2010's westerlies gives us the ability to get in some ocean hours and train.
Meanwhile, I am back in China for the first time in two months, hosting the tenth anniversary parties of our "China Briefing" publications, which were amongst the first independent business publications in China, and earlier actually than some of the media bureau. Details are here for Beijing and here for Shanghai. I'll be at both events, before heading off to Ulaan Baatar in Mongolia to take care of some horses I am having stabled there, do a bit of riding and trekking, prior to getting back to work in India. I have the new India Briefing"Guide To Conducting Business in India" to write, which will examine India's investment laws, taxes and investment environment, for publication in September. I'll be holed up in a villa in Goa to write it, which will be quiet, as the Monsoon is affecting the Western coast and everyone battens down the hatches. Still, peace and quiet are what you want if writing any book, and that, coupled with daily catches of fresh tuna and anchovies, and runs along the beach will keep me fit and healthy before South Africa looms three weeks later. Avast Thar Me Hearties!