Autumn comes early in Mongolia, and with the many fresh water rivers and lakes the country possesses it is a heaven for river fishing. This far north is very much Eurasia, with species of fresh water fish to be found here just as they are in Northern Europe including Britain. With the advent of mass sea fishing, the more delicate – and bony – river fish have fallen way out of fashion in London, which is a great shame, because as any Russian will tell you, fish such as Bream, Perch, Pike and many others make excellent eating.

The trick is to have them fresh – which means catching your own – and to treat them with delicacy and let the natural flavours come out. So I am off to the River Tuul, specifically for Pike, as they are excellent eating. It is a cold day however, and the fish are slow and torpid, with the river running fast. It is two hours before I learn how to fish this stretch, and where likely fish are – Pike are ambush predators I I need to find slower parts of the river and plenty of weed cover.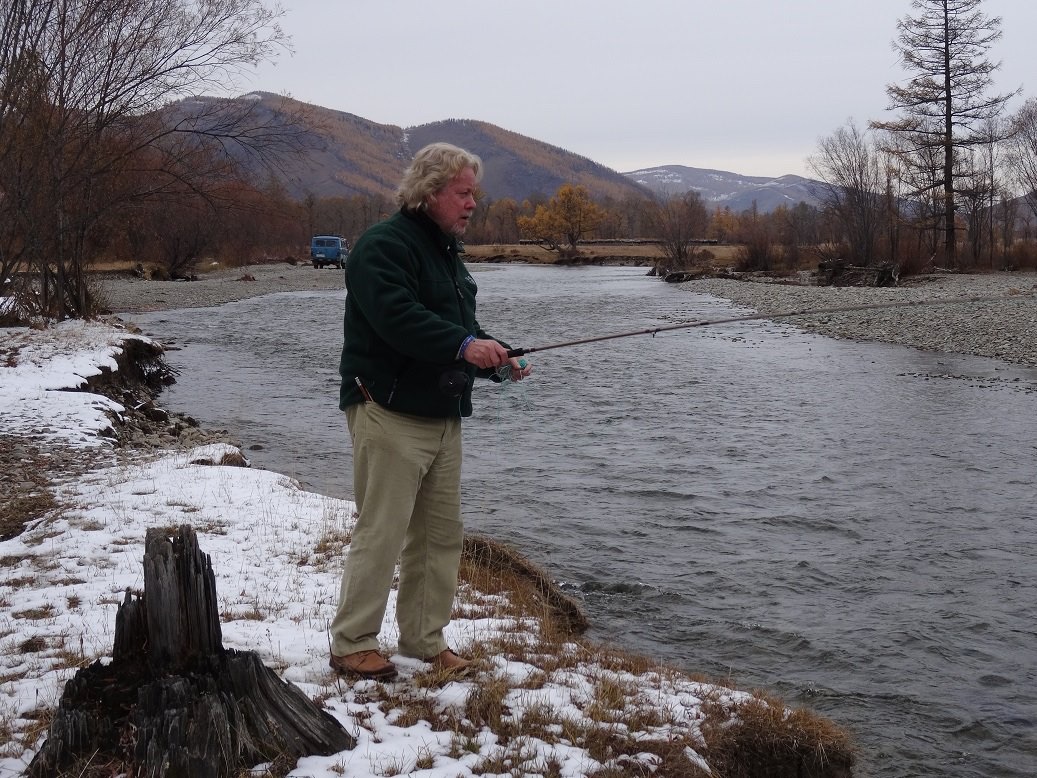 Eventually I am successful – if bloody cold, and a fat Pike is landed. It is only when I am home that I realize I have a roe carrying female – hence the girth. Pike require cleaning carefully; there are chefs privileges within the guts – liver and heart especially. Then they need scaling, and the gills removed if using the head. Fresh River fish yield good tasting organs, especially the liver. Separate them from the rest of the internal parts, and rinse carefully. Put to one side. I also extracted the roe, which are reddish in colour. Again, handle with care, and be careful not to split the membrane sac they are in while lifting them out or you'll get millions of eggs everywhere.
For the liver and heart, although these tend to be small they are excellent pan fried in butter, some seasoning and serviced on toast. It is the fishermans, or chef's privilege to do so, and they are very delicious. This is gourmet food almost unobtainable except in the fishermans kitchen.
Then there are the roe. Pike roe are good eating, but care must be taken in preparation. They need to be extracted from the body carefully, then the membrane sac gently removed, and the roe gently washed in cold water to remove any bits of blood or veins. They also make excellent caviar. To do so, one needs to preserve the inherent taste of the roe, which are mildly fishy and oily (but in a good way). They also need seasoning. The best way to do this, given the delicate flavor, is to decant the roe into a lightly salted solution of cold water, and leave for an hour. The more salt you use, the saltier the impact on the roe, so go carefully here – you want the salt to be an accessory, not the overwhelming flavour. When done, drain carefully and put into a glass container. Chill, the Pike Caviar will keep for two weeks, although I suspect it won't last that long. Eat as you normally would as caviar, either directly via a teaspoon, or with black bread, sour cream, chopped onions, dill and egg yolk. Carefully layer all that on a quarter slice of the bread, top with a spoonful of the caviar, and sprinkle with fresh lemon. A good chilled vodka goes very well – and especially Russian or if you can find it, Mongolian Chingghis or Bolor.
Bolor is the better, and means "Crystal" in Mongolian. The vodka was originally made to celebrate the first Mongolian Cosmonaut, Jügderdemidiin Gurragchaa who was an engineer on the Salyut space station. Early bottles featured a picture of the craft. Today's are designed to look like crystal, and it's considered the best locally distilled vodka in the country.
To roast the Pike, clean inside, and pat dry. I usually make a stuffing out of finely chopped onion, seasoning, fresh dill, and toasted brown breadcrumbs, kneaded together with a slug of dry white vermouth and an egg yolk. Place the fish on enough baking foil to wrap it in, and turn up the edges (we are going to add liquids so you don't want it to seep away). Score the fish either side, and insert chopped dill, and seasoning on both sides. Stuff the fish with the mixture and secure it in place with a long skewer along the belly or wooden toothpicks to hold the belly edges together.
Gently add a decent slug of white dry vermouth or wine, lemon juice, and wrap the fish up in the foil tightly so no juice escapes. Roast at 250 for 30-40 minutes depending on the size of the fish. To check when done, take out of the oven, and insert a knife into the fish near the backbone. If the flesh comes away easily, its ready. Serve with roast creamed potatoes, carrots, and quickly make a roux sauce with the drained liquid juices.
Serve with a young, green yet light chilled white wine.
Salut to River Fish!