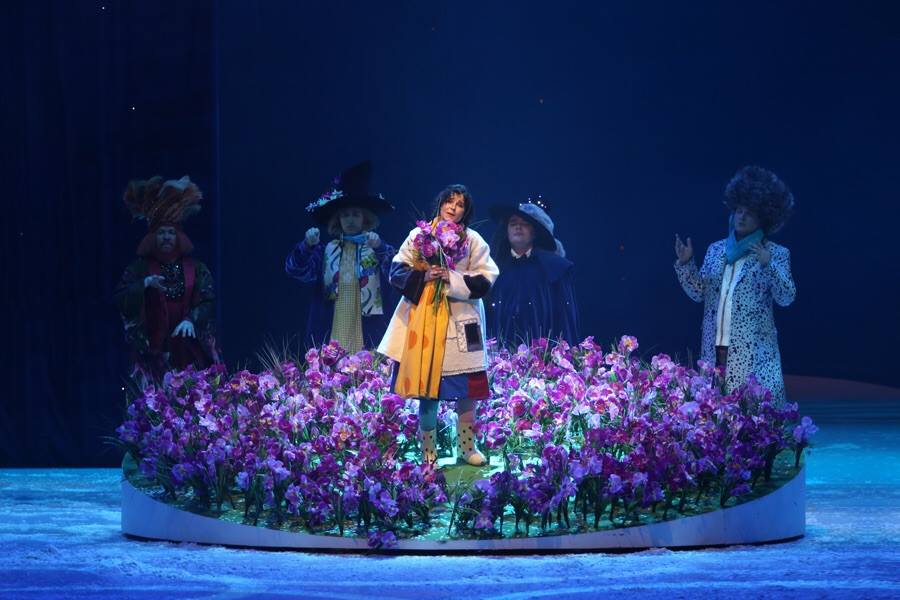 Rodion Shchedrin is Russia's greatest living composer, born in 1932 and working both throughout the Soviet era and contemporary times. He has a special affinity with the Mariinsky, from whom several new works have been commissioned, even as he reaches his eighties. He married Maya Plisetskaya arguably the most talented and beautiful Soviet era ballerina, writing several works for her to dance, such as Chekov's "Seagull". The Maestro has long taken Russian literature as inspiration for his work, and this trend follows with this adaption for opera of Nikolai Leskov's translation of Nemcova's fairy tale, which is better known as "The Twelve Months". In operatic form it becomes "A Christmas Tale" and is another in the operatic canon of winter plays within Russia during this Festive season – both Tchaikovsky and Rimsky-Korsakov wrote similarly titled works.
As one can expect from Slavic tales, there's plenty going on, and much harking back to the original (Czech) story of Cinderella as well as the twelve months, all of whom get to say what they intend to bring to the forthcoming year. So it's a pastiche of sorts, although the story hangs together well enough, and the materialistic tale of a Tsarina giving bags of gold to whomever can bring her violets on the 31st December is well done. It makes a change from slippers.
Being Russian, and Shchedrin being one suspects on the socialist viewpoint of Soviet history, it's for the political critics to determine exactly what was meant by the Putinesque talking head video screen determining the next Imperial decree. The mention, uttered by the month of December, that "he may stay a bit longer than usual due to sanctions" raised a droll laugh.
Shchedrins score, both original and indisputably Russian, however lacked just the killer aria the audience wished for. His choral work was superb, and the range of satirical use of instruments excellent, but…well at Christmas we all want a good song. For that though, Shchedrin is never going to be our man, he is too ironic and discordant for plain melody, and that is the one flaw with this production. The sets were amazing, and the opening, plus the embodiment of the months as they unfold, astonishing. A killer song, and he may had written a classic, and for sure the overall themematics are Christmassy and fun, as this short YouTube clip demonstrates.
However in my view Schedrins "Christmas Tale" remains tantalizingly one aria short of sustaining a permanent place in the repertoire.
That said – which other national opera house put on a new production this year? When a Mariinsky "under sanctions" can manage it, one wonders about the commitment to arts from the West. The Met? Convent Garden? A gauntlet being thrown down by the Russians? One hopes so. More originality is what the international operatic world needs, and on that score, Shchedrin and the Mariinsky deliver.