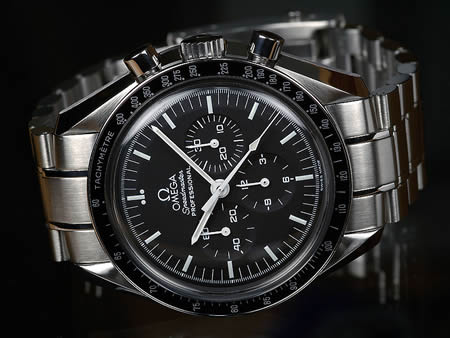 I'm fortunate to have several high quality watches in my collection, built up over the years, I regularly visit an antiques dealer in Tsimshatsui, Hong Kong to see what has turned up. On many occasions nearly brand new watches are on sale at about 30% less than the retail price, unlucky gamblers in nearby Macau perhaps, or merely unwanted presents. Some however are truly antique – Meggie is in proud possession of a 1920's Cartier dress watch, amongst others, while my collection features Rolex, IWC, Jaeger le Coultre, Breitling, Corum, Cartier and a very nice Breguet, much loved by me as Pushkin mentions it in Eugene Onegin, which coincidentally happens to be one of my favorite operas. Wonderful as all these may be, my favorite as a watch is an antique, 1960 Omega Speedmaster. It is truly sublime.
This year of course marks the fortieth anniversary of Man on the Moon, and I recall as an impressionable nine year old lying on my back in our garden staring for hours at the moon and thinking "There's a man up there". For those who were alive to witness those times, they were pretty exciting. Newspapers carried diagrams of how the re-entry process could all go horribly wrong, and cereal packets gave away free Apollo stickers and coins. The space race captivated young boys like me and it was a wonderful period of history to be involved with. The watch those intrepid lunar men wore however was the Omega Speedmaster. This manual winding chronograph was introduced in 1957 and made famous by its selection by NASA for the Apollo Program. Buzz Aldrin wore his Speedmaster as he stepped out gingerly onto the moons surface, and it remains the only watch flight-qualified for EVA use by NASA. It is also the watch chosen for use in outer space by the Russian space agency NPO Energia. In choosing a watch for use in Space, NASA sent scientists out incognito to purchase different brands of chronographs which were returned to NASA for testing. The Speedmaster passed NASA's numerous tests, which included exposure to extreme temperatures, vacuum, intense humidity, corrosion, shock, acceleration, pressure, vibration and noise, whereas the Rolex, Breitling, Bulova, Longines and Heuer, notably, all failed. Omega were unaware of these tests, so being awarded the concession was a real boom for them.
The great thing about it is its so smart. Intelligence is key in watches, and with a tachymeter one can calculate speed and direction given a fixed point. The design is a classic, simple, yet functional and elegant. No diamonds here, it just quietly does it's job in an understated manner. It's nice to have a collection of expensive watches, of course. But while the others in my collection may be perhaps regarded as toys for boys, my Omega Speedmaster is a serious piece of kit. And after all, not everyone gets to go to the Moon.