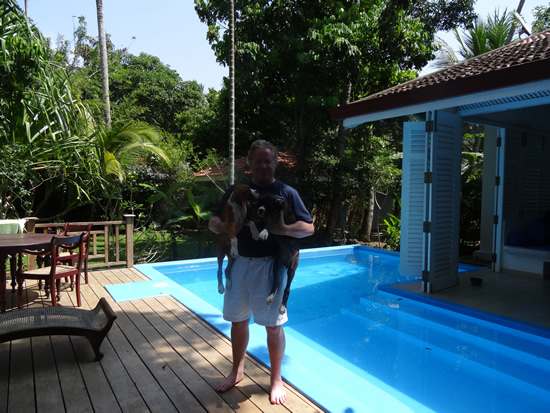 Having made the decision to remain based in Asia I am now able to live a life on two halves – one half based out of my Singapore office and travelling around South-East Asia on business, while the other half relaxing at my house in Sri Lanka. With emerging countries such as Sri Lanka now rapidly developing their infrastructure – it is an immediate step up to immediate 4G communications and hi-speed wireless, meaning I can continue to work pretty much from home while keeping in touch our multiple Asian offices. However, every good man and every decent house needs dogs – so to that end for the first time in some 25 years I have my own pets again.
Father Christmas was generous to me this year, not unreasonably because I have after all, been a very good boy indeed. So December 25th meant I was joined by two Boxer puppies, five weeks old. From the same litter, they came from a breeders in Colombo, and I saw both parents when going to pick them up. Its' preferable to have two dogs rather than one so they can play together and not get lonely. So Winnie and Clemmie (sisters) have joined me in Sri Lanka, and have settled in well. The first month saw them confined to the house, while they waited to be old enough for their injections, and frankly at that age even the local cat could have beaten them up, let alone the four foot Monitor lizard I have resident in the garden, the Mongoose, capable of vicious bites, or the 12 foot Python that occasionally appears and snaffles frogs out of my ornamental pond. So they've been somewhat closeted. Now ten weeks, they have put on an astonishing 50% of their total body weight on in the past three weeks. It is getting hard for me to hold them both at the same time.
They did go through a brief phase of biting fabrics and furniture, however have now progressed to bones and hours of fun with coconut shells, which is handy as I have numerous coconut palms on the property and an acre of garden. They are still confined to the garden now, and some month away from being able to venture further, when I look forward to introducing them to nearby beaches and the Indian Ocean. At which point they will be my running buddies as I do my morning runs along the beach each morning.
It's good to have pets, and China never was really suitable. Life really is better quality in South-East Asia.