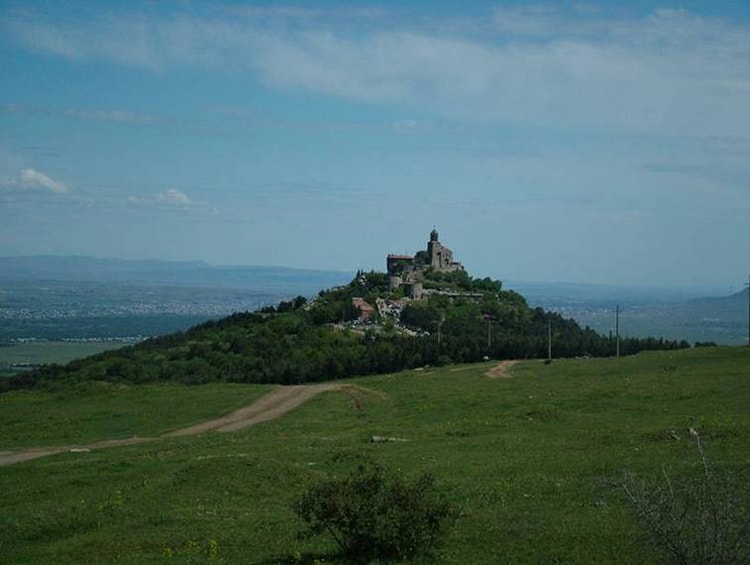 I have travelled to the Caucasus to be involved in the 2016 wine harvest in both Armenia and Georgia, however the first stop has to be a re-introduction to Georgia's excellent Qvevri Wines. I was last in Georgia a little less than a year ago, and wrote about the wonderful Qvevri method of wine making at that time. Different to the Western European methodology, in Georgia the grapes, seeds, twigs and all are shoveled into huge terracotta jars (Qvevris) buried deep underground, and left to sit on these lees for several weeks or even months. The result are very tannic wines, with the whites especially taking on a beautiful golden amber hue. Such wines are good with light meats such as roast pork, as well as with dried fruits such as apricots and cheeses. The reds are also excellent, and can deal with very powerful dishes, even up to curries. Qvevri wines may be an acquired taste, but for me they represent wine making at its most organic.
To refresh my memories and stimulate my tastebuds, I visit the Shavnabada Monastery, just outside Tbilisi. Georgia has a strong link between Christianity and Wine, with many Monasteries also cultivating the grape. The Georgian Orthodox Church Cross symbol is in fact two vine stems bound together by the Hair of St. Nino, who introduced the Christian faith to the country in the year 327.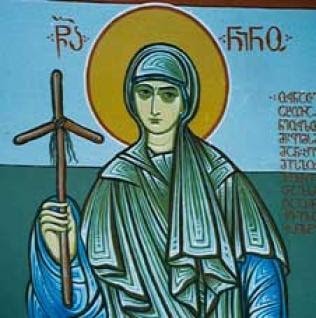 The Monks at Shavnabada have been making wines for decades, and we are accompanied to a degustation in the Monastery by Father Alexander, our wonderful host. He is an interesting man, previously both a husband and a Father with a son, he entered the Monastery after the death of his wife, a still common situation in many Orthodox countries. He is soft spoken, and also sips a little of the wines he gives me. He sups a small amount from a simple wooden bowl, my glass is filled nearly to the brim. With a twinkle in his astonishing blue eyes, I fancy Father Alexander had been a bit of a boy in his earlier youth.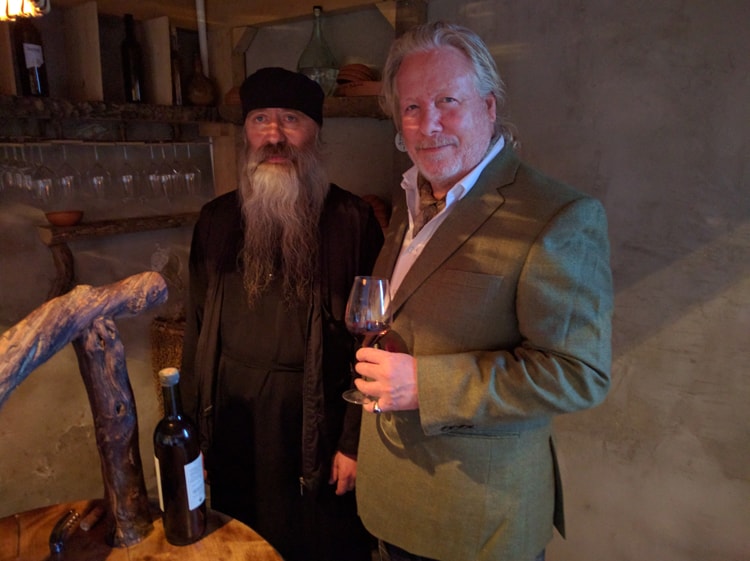 The wine, a 2012 Qvevri from the Rkatsiteli white wine grape, is a deep amber, with walnut, dried apricots and an intriguing floral bouquet. It is excellent. We then try a 2007 Saperavi red, which has to be one of the best Qvevri's I've had, it has certainly taken on a great deal of character over the past few years. It was on lees, Father Alexander informs me, for just 12 days, before being buried in the Qvevri for eight years and bottled in 2015. I pose by the Qvevri's themselves, each containing 2000 litres of wine beneath my feet.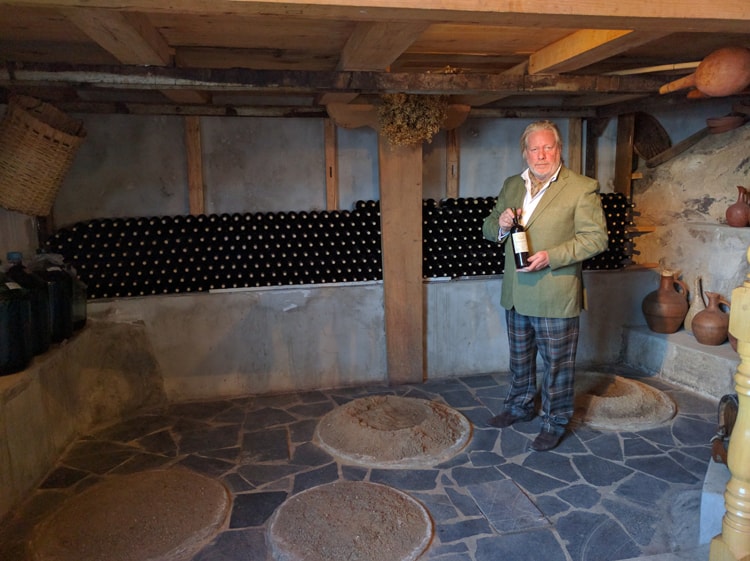 These wines are strong too, at 14%, I am starting to feel mildly tipsy. Father Alexander then offers me a glass of Chacha, the clear white spirit made from distilling the lees once they are extracted from the Qvevris after about two-six months, depending upon how tannic the wine is to be. It is the Georgian version of Grappa, and I have long learned that the best way to dispose of it is to do it, vodka style, in one go. I walk out, slightly wobbly, and feeling very, very happy. Father Alexander blesses me, and we hug. He smells of wet sheep. Its not an unpleasant aroma, and the Chacha on my tongue reminds me this is organic wine production at its best.  With the Bible being full of sheep and the Lamb of God,  having the Monks of Shavnabada take on a scent of Ram I am sure means that up here, I am a little closer to heaven.