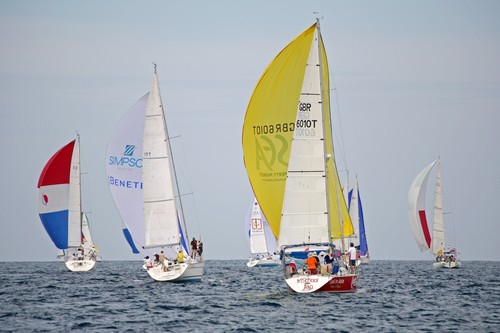 Photo: China Briefing, in far center, showing larger competitors a clean pair of heels
China Briefing scored another fifth place finish in the fifth race of the six race Kings Cup yacht racing series in Phuket today, leaving them in with a shout of honors going into the final race tomorrow. With strong gusts of up to 30 knots in the morning, the yacht got off to its now customary flying start until the larger yachts with bigger sails and more power began to take command. Under exciting conditions, not for the faint hearted, two yachts lost masts in heavy gusts, including the perennial favorite, the Thai Royal Navy whose mast broke off about two meters about deck and was left trailing in the sea. Another Sunsail 35 lost its mast completely. A multihull participant turned over and sank as the conditions proved too much for several competitors. China Briefing stayed with the larger boats – some of them 18 feet longer than China Briefing's Jeanneau 32 – for the duration of the race with spinnaker flying in the return leg of the event which saw a long course out to Ko Aeo Island from Kata Bay and return. To give a measure of the wind conditions, China Briefing finished in less than half the time the similar race took them on day one.
Todays result and the positions of leading yachts immediately ahead of China Briefing today mean the China Briefing team, given a strong performance and mistakes by leaders, who may also be hampered from damage caused in todays pounding conditions, are still in with an outside chance of winning the series.