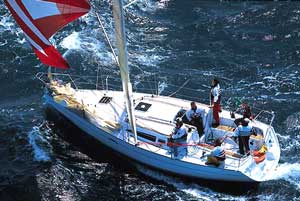 This afternoon I leave the chilly climes of Beijing for the sunnier shores of Phuket, taking part in the annual Kings Cup Regatta where I shall give the good ship "China Briefing" a weeks worth of racing in what promises to be a very competitive field. I have a 32 foot Jeanneau, a French built yacht, fitted with a racing hull to play about with, and a crew of six, including Rob Williams, who is an America's Cup participant. I'm skippering (well it's my yacht!). The Regatta takes place over six days, with five days racing. We probably won't win a major prize – this crew hasn't sailed together before so we lack the teamwork co-ordination – but I'm hopeing we can possibly win one or two of the daily race events. I last participated as crew some ten years ago in the yacht "Kelso" – we came a credible fourth overall. This year sees close to eighty contestants, and rivalry will be high.
The event takes place off the beach at Kata, in South-West Phuket, and the yacht is flagged as "China Briefing" with the publications logo and name plastered all over the main sheet, meaning we'll be easy to spot. Tomorrow I sail her down from Yacht Haven in North-East Phuket where she lives, to Kata, a nice relaxing day sail and a day to get the crew familarised. Then we're into competition mode. No alcohol either on board or during the evenings (you don't want hungover crew when racing eighty yachts all in close proximity) so discipline will be tight. And at a stiff seven – eight knots, the Jeanneau can certainly shift.
It's a welcome break – in the past month I've travelled twice to the US, taken in conferences in Miami, New York, Austin and San Francisco, and spent most of the rest of the time in India. That's about two and a half time around the world in 30 days on aircraft, so I'm looking forward to a good week on board the yacht for a change. Salmon and cucumber sandwiches ahoy!