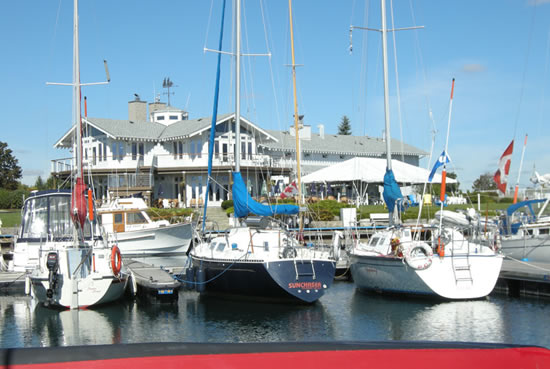 Having acquired property in Mississauga – an old five bed detached house in one of the quieter neighborhoods of Toronto – it has been time to explore what the area is really all about. Firstly, about the move – Canada is far too expensive from the tax perspective for me to be tax resident there, so my principal place of residence, (and tax) is Singapore, and I spend a lot of time in Asia with my professional duties. However as over 50% of my clients are from North America, and I have gotten fed up of the debilitating jet lag, it has proven better to invest, and Toronto – with its excellent air connections to the United States – is a great choice.
New York, Boston and Chicago are all within 90 minutes flying time, and Toronto's airport is easy to navigate. Plus it's only a 5 hour jaunt across to Europe.
The property meanwhile, costs half as much here on the banks of Lake Ontario than a 3 bed apartment in Pudong. So my summers will largely be spent in North America, with occasional commutes across to Asia. The ay to do this is not to fly West and cross the international date line. That invites immediate disaster and jet lag. The way to travel to Asia from North America is via Europe, where that 5 hour flight will drop me nicely down into London, allow me a few days to visit relatives and see clients, and then hop on a direct flight to either Dubai, or Delhi a week later. At that point I am back in my business stamping ground with offices and staff and clients all close to hand, and the time differences are absorbable. Dubai, or Delhi and Mumbai are well connected back to Singapore, my default office, and then I am back to China time and with easy connections to China and beyond. The secret of jet lag is to take your time and never to cross the international date line. Which is fine by me, there are no opera houses, art galleries or museums and exhibitions anywhere in the Pacific Ocean as far as I have been able to ascertain, while there are plenty in Europe. Such trips then become educational and entertaining rather than a procession of stressed business meetings, and this was always the way travel was intended – as a change of scenery good for the soul.
But back to Port Credit. It's a strange name right? It's part of the old fur trade route, and the river was named Rivière au Crédit by French fur traders, because trading goods were supplied to the native Mississaugas in advance (on credit) against furs which would be provided the following spring. A trading post was set up at the mouth of the river, in Port Credit, in the early 18th century. It's a small town, with a cool lighthouse and some very nice restaurants and boutique, genteel stores. However it is very much a sailing community. Arguably the most prestigious yacht club on Lake Ontario is the Royal Canadian Yacht Club in Toronto, but it's the Port Credit club – and there are 40 or so yacht clubs dotted around the entire lake – that wins the most events. It has moorings for close to 400 vessels, and although winter sees the sailing season in hibernation – the summer events are many and varied.
I'm a qualified ocean skipper and race regularly in the Kings Cup in Thailand, but Lake Racing is something new to me and I have heard the style of yachting is rather different. For example, ocean racing is affected by strong currents, whereas the current on Lake Ontario is a rather sedate 2 knots. But those winds can blow up – and two weeks ago when I was there it must have been about 25-30 knots on the Lake. That'd nip you into American waters pretty quickly. So here I am, a new member, and with lots to learn. Weekends at Port Credit for the summer regatta and sailing season sounds like fun, as does running around the great American cities on business at that time. Winter I shall decamp back to Asia, when it is not so hot and humid, and I have made plans to do that as well – and more on that in my next post.
Meanwhile, let's get those sheets up and go for a spin around the Lake!