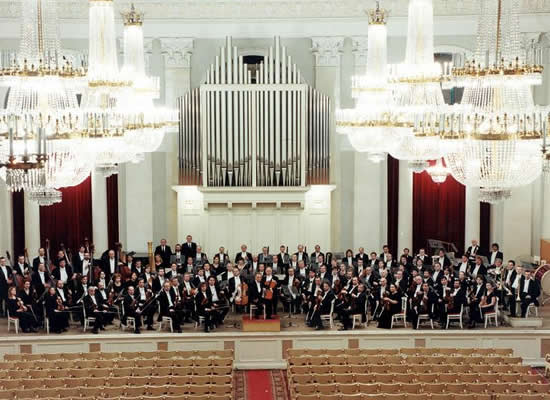 I've just spent a long weekend in Hong Kong; catching the St. Petersburg Philharmonic who have had a series of three concerts here. With a fully Russian program, taking in Prokofiev's 1st Symphony, his third piano concerto and Tchaikovsky's Fifth Symphony on the first night, we were treated to close up views of the pianist Denis Matsuev from the fifth row. Matsuev is one of Russia's most prominent young pianists and has rapidly been making a name for himself in the international concert arenas. He's actually a chunky bloke – one wouldn't want to get in a fight with him after too many vodkas, and unusually for a pianist he has fingers like sausages. However, that really enables him to attack the Steinway – never have I heard a piano assaulted in such a fashion – one wonders at the sheer strength of the instrument as Matsuev really gets the most out of it by hammering away at the keys. He's also amazingly fast, and brings a lot of both technique and passion out of the instrument in the way only Russian pianists can. Conducted by long standing artistic director Yuri Temirkanov,; it was possible to make comparisons with Valery Gergiev, the enfant terrible conductor of the competing Mariinsky.
In truth, I suspect Gergiev is more dictatorial and I sometimes wonder if his busy schedule occasionally means the Mariinsky is not as well rehearsed as it should be. There were no such problems for the St. Petersburg Philharmonic however, who displayed an obvious warmth towards Temirkanov that was reciprocated. That warmth and soul also reflected itself in the second evenings concert, which again featured Denis Matsuev in a knock out rendition of Rachmaninov's Third Piano Concerto , a notoriously difficult piece to play, but played with considerable aplomb and assertiveness. He brought the house down and was pressed for two encores, including a super fast solo rendition of Figaro. That had been preceded by a rare performance of Rimsky-Korsakov's overture to the Opera "The Legend of the Invisible City of Kitezh" and concluded with Stravinsky's Rite of Spring . That I heard earlier in the year courtesy of Valery Gergiev at the Met, and while I suspect Gergiev's rendering was punchier, Temirkanov's seemed more theatrical. The ballet itself of course created a scandal when it was originally premiered by Les Ballet Russes in Paris, and I was tempted to shout out "Sounds Like Three Dentists!" but was persuaded not to.
Good as Matsuev was, the third evening held all the aces. Beginning with a wonderful performance of Rimsky-Korsakov's full Scheherazade , the Philharmonic was really put through its paces in this demanding piece, which encompasses numerous solos for violin, cello and bassoon. Based loosely on the Arabian classic "1001 Nights", the orchestra really did take us on a superlative journey through the mysteries of the Orient. Tchaikovsky's overture from Romeo & Juliet followed, again a charming piece. Temirkanov then became crafty and introduced two pieces designed to commemorate very different regimes, firstly Shostakovich's rarely heard Festive Overture, hastily written to celebrate the 37th anniversary of the October Revolution, after his friend at the Bolshoi was suddenly called upon to give a gala performance for top communist party officials at short notice and had no new piece to honor them with. Shostakovich wrote a suitably formulaic, yet energetic and all-communist party praising piece in a little over 24 hours. That was followed by Tchaikovsky's 1812 Overture, itself written to celebrate the opening of the Cathedral of Christ the Savior, in turn commemorating the events of 1812 and Napoleon's defeat in his war against Russia. Tchaikovsky used portions of La Marseillaise to illustrate the French, while bass drums signify cannon fire. The piece then descends into a battle royal before church bells are simulated on tubular frames, and the entire horn section stands up to conclude with a rendition of God Save The Tsar , the final tune of which everyone goes home whistling, mostly not realizing the Tsarist imperial connections.
I was fortunate to meet up with Maestro Temirkanov after the final performance, and asked him about the horn section standing up to play the final part of the overture. He confirmed my question that it was indeed because the theme was taken from God Save The Tsar, and that both Imperial protocol and Tchaikovsky's own score demanded they stand while playing it. Temirkanov was a pleasant, grandfatherly figure and is obviously highly regarded in Russia. As for me, whenever I get the chance to hear the St. Petersburg Philharmonic I shall undoubtedly do so – one of the warmest and best rehearsed examples of a Russian orchestra in its prime that it has been my privilege to hear.