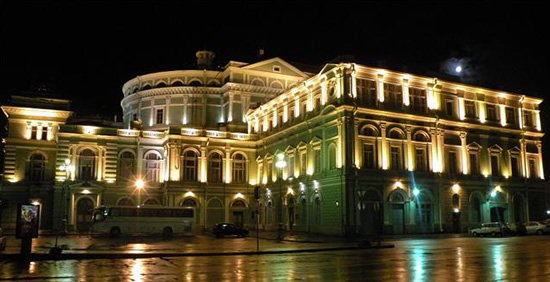 I've always wanted to visit St. Petersburg, and due to a combination of factors have finally arrived. At some points in your life you just have to go do things without any thoughts of how to carrying them out. Such it was when Meggie told me, when I'd just arrived back to Beijing from my sailing in Thailand, that Anna Netrebko was singing lead soprano in Tchaikovsky's opera Iolanta, with Valery Gergievconducting, at the Mariinsky Theatre.
For those of you unfamiliar with the world of Opera or Classical Music, Valery Gergiev is currently one of the worlds greatest conductors. He is the Principal at St. Petersburg's legendary, Tsarist opera house the Mariinsky Theatre, itself one of the great opera houses in the world. Gergiev is also the principal conductor of the London Symphony Orchestra amongst several others. Anna Netrebko is now considered almost certainly one of the greatest soprano's at present, matched possibly only to Katherine Jenkins in popularity. (Americans tend to prefer Jenkins, Europeans Netrebko). Tchaikovsky needs little introduction, expect to say that his opera Iolanthe was his last, is definitely not related to the Gilbert & Sullivan piece of the same name, and is one of his prettiest works.
I had no immediate plans to visit Russia, but at that quadruple whammy (it really doesn't get any better than Tchaikovsky, Mariinsky, Gergiev & Netrebko) I paid online for the tickets there and then. In doing so I opened up a whole can of worms involving visas, and rearranging schedules, and so on, but anyway – six weeks later – with a deadline of one day to get to Russia on time – it got done.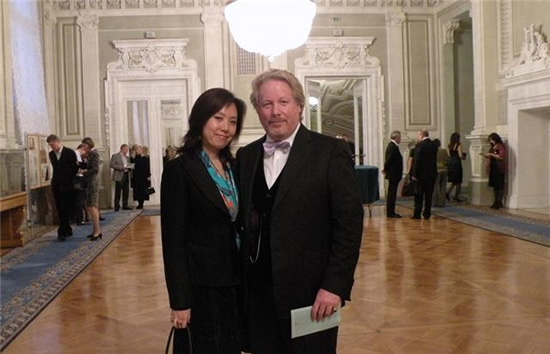 Meggie & I in the Mariinsky Theatre Ballroom
I'll comment on St. Petersburg later in a separate post, but firstly the opera. Opening up the 227th opera season at the Mariinsky, a new, rather sparse set greeted us, certainly monochrome in color, with all the action taking place around a rotating bedroom/cum Iolanthe's home in the woods. I had expected a more period setting, and certainly more color. However, recognizing the plot revolves around Iolanthe's blindness – she's a princess whose Father the King has forbidden anyone to let her know she's disabled – was a creative nod to her condition. Iolanthe, thinking that eyes exist only to shed tears, is isolated from society, with her maids and little else. Inevitably, she meets a handsome Prince, who when asking Iolanthe to give him a red rose from her garden, presents him with a white. He asks again, and again, and each time she provides the wrong color. He then realizes she's blind and is unaware. She's also extraordinarily beautiful. You'll have to watch the Opera to find out what happens next – suffice to say that unusually for a Russian opera no-one gets shot, dies or possessed by demons. The opera, which in one act is just 90 minutes – possesses some of Tchaikovsky's most compelling arias, duets and choral work. It is, I feel, vastly underrated – and is, along with several other forgotten Russian operas, well overdue for reevaluation in the West. If you get the chance – and I am sure the Mariinsky will be touring it next season – I thoroughly recommend it.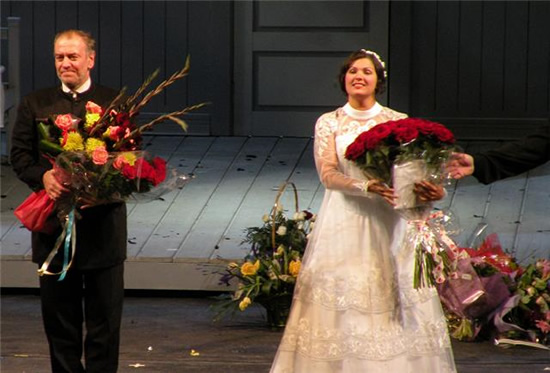 Valery Gergiev and Anna Netrobko with after performance bouquets. They took ten curtain calls.