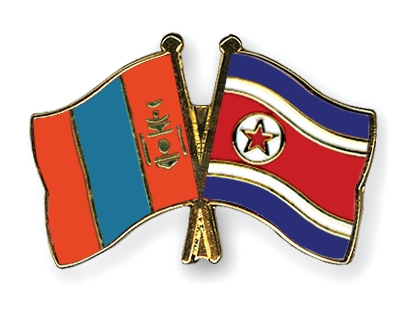 Travelling and living in places such as Ulaan Baatar is wonderful for putting one immediately into a different universe. Everything changes, the expats you meet are more quirky, interesting, the country provides more challenges, even dangers, and there are relationships not found anywhere else. One such is Mongolia's visa-free arrangement with North Korea, while the DPRK Embassy is a couple of streets away from my apartment. Hush hush, but the Americans and North Koreans unofficially convene in Ulaan Baatar when they want to talk. Which is not very often, but it does happen.
I have some sympathy for the North Koreans in the manner in which US foreign policy has treated them, and have visited the country on previous occasions. I wrote "A Definitive Guide to North Korea" for China Briefing a few years ago, which includes loads of photos, links and downloads. Meanwhile, being a Pariah State means one needs to find alternative sources of income, and the DPRK and Mongolia are linked in their Soviet era communal friendship and heritage – there won't have been much barter trade but they will have been some. Those old trade links remain. Updating this, and a desire to earn foreign currency are the string of North Korean restaurants one finds in obscure places – Beijing has a handful, as does Moscow. Ulaan Baatar also joins this unique club. In fact, the Pyongyang Restaurant is actually the worlds strangest restaurant chain, with 130 of them spread around the world. They are also excellent, and provide a surreal glimpse into how North Korea wishes to portray itself to the West. One can forget political correctness here (the British Government have diplomatic relations with Pyongyang) and just go and have fun. In Ulaan Baatar, it is located on the second floor of the large oblong building on the intersection of Peace Avenue and Ikh Toiruu (tel: 9118 6333).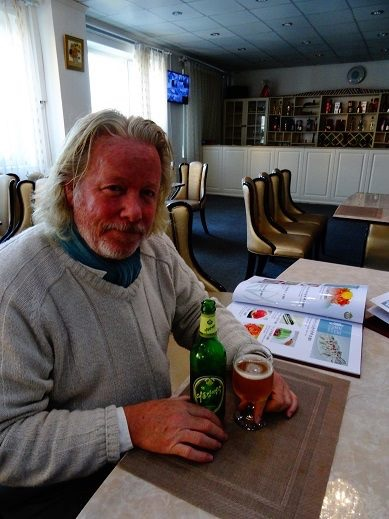 I sit down in the quaint, kitsch 1950's modern interior, and order a beer. Of course, its a bottle of the legendary Taedonggang, brewed from North Korea (and probably Chinese) hops and the waters of the Taedong River. The equipment to make it was curiously imported from the UK, purchased from the bankrupt Ushers brewery in Wiltshire. I've had dark beer on tap before whilst visiting Pyongyang, and know the North Koreans, like many northern climates, are capable of making excellent brews. Taedonggang does not disappoint.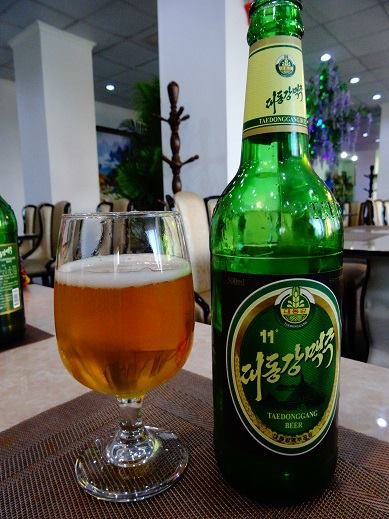 I'm not allowed to take a photo of the menu, a pretty yet charmingly stern waitress advises me as I aim my camera, but I am permitted to take photos of the food. I order North Korean Steak Tartar to start with, it seems appropriate. Tartar is of course one of the ancient names for the Mongols – and the dish has its origins amongst the Golden Horde, who would slaughter injured horses and eat the meat, often raw. Horse Meat Steak Tartar is actually the traditional way to eat this dish, although the Pyongyang Restaurant uses finest quality North Korean raw beef. It is superb.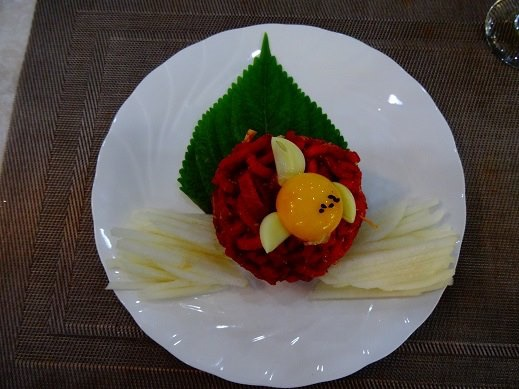 As I tuck into a North Korean hotpot (my camera has been discretely put to one side), the floor show commences. Cameras are allowed at this point, as the majority of the waitresses, having a few minutes earlier slipped discretely away, return as rock stars. Five musicians, two singers, and they belt out a series of patriotic, heartfelt songs to their Motherland, no doubt including some ditties about the Great, Dear and current Leaders of North Korea. With 1950's era pop (think the Shirelles) mixed with 1970's wailing guitars and 1980's synth, all the time going for costume changes between songs, we are treated to a plethora of Juche philosophy in melodic format.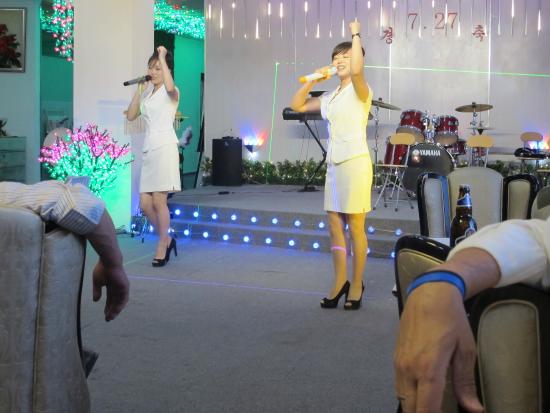 The girls are hot too, but there's no chance of meeting them anywhere outside the restaurant. They will have been chosen as the prettiest, yet remain closely guarded treasures. In fact any position seen as representing North Korea is a privileged position in the country, with beauties on display in all sorts of disciplines, as the excellent if weird babe website Pyongyang Traffic Girls aptly reminds us.
Following a syrupy ginseng dessert, I turn to the liquor menu, and spot the inevitable. Of course, I try it. It's not just the Chinese who have a taste for the infused macabre, and the Rat is a lucky symbol being the first animal in the Chinese zodiac. Drinking its essence is supposed to be "good for men". Its certainly good for the North Korean economy at USD100 a bottle.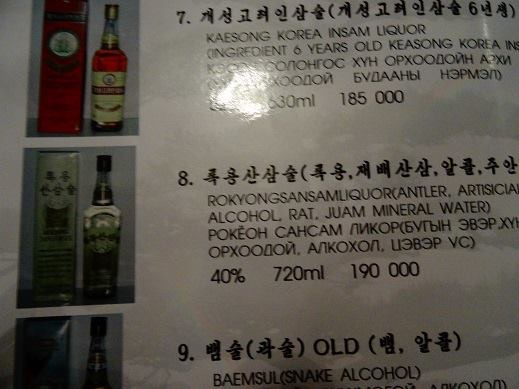 As we depart, we pass the souvenir outlet, full of North Korean paintings of the sacred Mount Paektu and Tigers, as well as highly sought after, and very expensive packets of fresh and dried ginseng. I talk to the very attractive girl, and ask for her phone number. She blushes but says she hasn't got one. I decide not to embarrass her further but do ask, in English, how many languages she speaks. "Korean, Japanese, Mongolian, German and English" she replies. I ask her about the teaching of English in Pyongyang. We are taught British English of course, and have British English teachers, she says, not the American version. I ask her to spell colour. She does, "C-O-L-O-U-R". It really is moments like that that make Pariah States immensely lovable.