Stalin is his later years was not dissimilar to Churchill, corpulent, and a bit of a gourmet. When meeting Roosevelt and Churchill at the Yalta Conference, Stalin laid on gallons of Sovietskya, the mass produced, sweet sparkling wine as evidence that as a result of Communism, even the poor could drink 'champagne' in the USSR. Churchill wasn't taken in by that, and wisely refrained from commenting, but he did appreciate Stalin's 'Cognac' – Armenian Mount Ararat Brandy. Churchill went so far as to pronounce it "better than the finest French Cognac" – and I wouldn't disagree. It's the 20 year old  that is the one to try, although I make a Sovietskaya/3 year old Armenian brandy cocktail I call the Stalin when these products are available.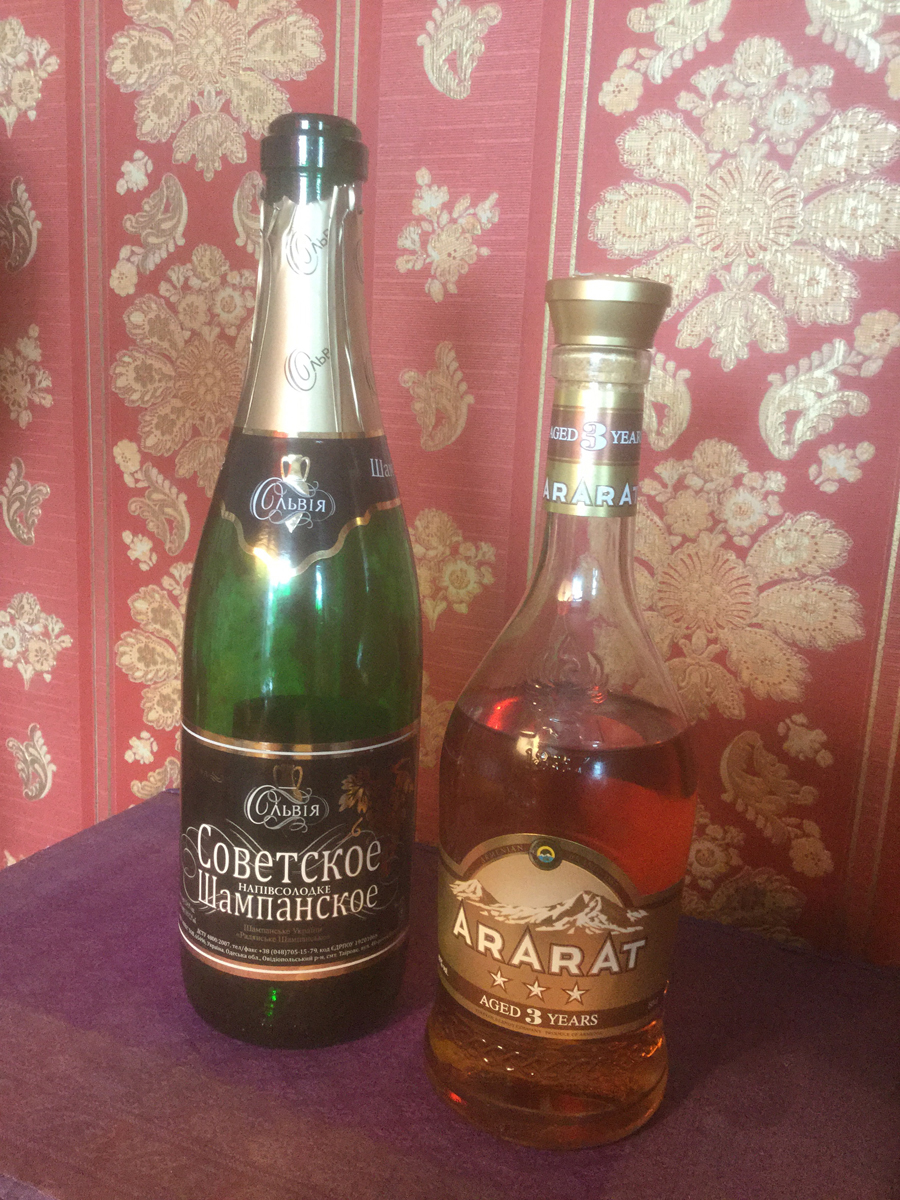 Both men also smoked, Churchill with his Cigars purchased from James J. Fox in St. James, and Stalin with his Pipe. Yet true to the image conscious and politically correct, Stalin used cigarette tobacco, defenestrating two fags into the bowl of his Pipe, and smoking them. In this way he could still be both a 'man of the people' and smoke cigarette tobacco, but in a manner that befitted the image of a 'World Leader'. That famous, white military tuxedo too, was Stalin designed. Prepared for War, yet stylish.
However, the cigarette tobacco used was no ordinary weed. Grown in the Soviet Republic of Herzegovina (now part of Bosnia) this was an especially selected tobacco, reserved almost exclusively for Stalin and the senior hierarchy. The Chinese would pull a similar trick with their Panda brand cigarettes, only for distribution at State Banquets and amongst the CCP elite until Zhang Zemin stopped the practice and made them available to all in the early 1990's. Communism of course is all about equality, and the sharing of resources amongst the populace. But when it came to China's Yunnan grown Panda cigarettes, and the USSR's Herzegovina Flor, certain Communists were more equal than others.

But what would Herzegovina Flor tobacco taste like? Extensive research has revealed ancient, empty boxes on sale on Ebay, and a trawl amongst tobacconists around Moscow and St.Petersburg has revealed zilch. I'm not even sure if it is still made, or if the factory still exists. What I do know is that a long term tobacconist in St. Petersburg, who supply my wonderful Bossner Baron cigars (Dominican Republic, owned by an Oligarch) tell me Herzegovina Flor as a brand no longer exists. But they did provide me with the next best thing – bright orange tin boxes of a brand named "Bogatyri" (loosely translating as "Hero") which I am told are very similar. The box even carries a label suggesting they are suitable for use in Pipes.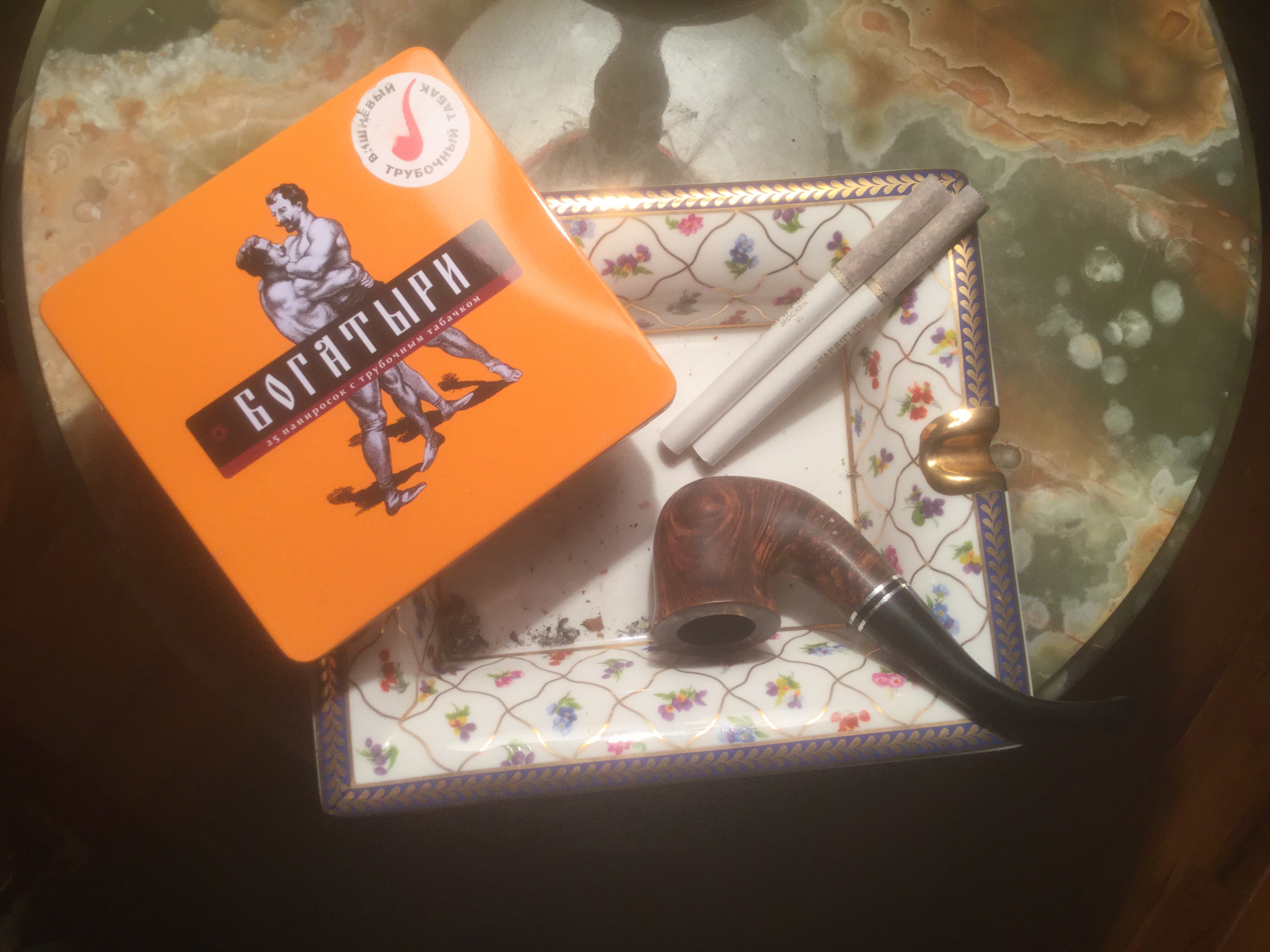 The cigarette itself is unusual – a white, empty tube, with an inch of tobacco at the end. There is no filter. To smoke them as a cigarette, one bends the end of the white tube in half twice, and flatten it to form a paper type of nozzle to draw on, and light the tobacco end. Obviously for the Pipe one deposits just the tobacco into the Pipe bowl, and light it.
It's certainly a tobacco with character, and not unpleasant or tarry. In fact it's damn good, and smokes and draws well either as a cigarette or in a Pipe. It's probably the nearest anyone can now get to Stalin tobacco nostalgia, or to Herzegovina Flor itself. And at 200 roubles for a tin box of 26, Bogatyri is not a bad deal at all.