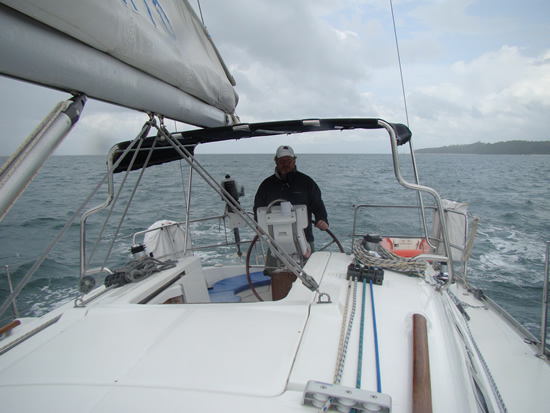 Well, I got lucky the past week, but yesterday the Monsoon, which I wrote about hitting the West Indian coast of Kerala nearly four weeks ago on my 2point6billion business Asia blog, has now reached the West coast of Thailand from the Bay of Bengal, and it's giving us fairly intensive rain showers for 20-30 minutes every couple of hours. It'll stay this way now for the next 4-6 weeks, which is why June & July are low season for Thailand's tourists.
Still, it doesn't matter, the summer monsoonal rain at least is warm, I don't mind getting a soaking and it helps with practicing of foul weather drills while skippering. Many sailors dislike the rain, but I think it adds a certain melancholy ambience to being out at sea, I can listen to Leonard Cohen's wonderful new "Live in London" CD and curl up below decks with a good book for awhile. Plus I get to wear really cool Henri Lloyd foul weather gear, and there's not much better than being able to buy fresh prawns or squid from some local fishing boat and cook that up in the galley. In fact, even beans on toast tastes a lot better when knocked up out at sea. I always put out a lure – and in the past have caught swordfish and once, in the Maldives, a gigantic sailfish (see photos section on this site), but so far, all I have managed on this trip is an indeterminate small striped fish and a gobi. Not much there to even flavor a watery soup. That said, I've seen numerous small flying fish, the amazing garfish, that when alarmed, runs on its tail along the water, and a juvenile Leopard Shark, but that's been about it. So, it looks like being a wet few days out in the Andaman – I depart tomorrow morning for another three day voyage around various uninhabited Andaman islands to practice reefing and furling techniques, then at the weekend a long five-six days to Langkawi, Malaysia, to familiarize myself with customs and immigration procedures for ocean going yachts. Then more exams, and hopefully at the month end I'll get my license.
So to demonstrate it's not all glamour and excitement, here's the latest update, getting drenched in the 2009 summer Indian Ocean Monsoon while out at sea. More again in about four days – I suspect this may be rather a damp voyage.