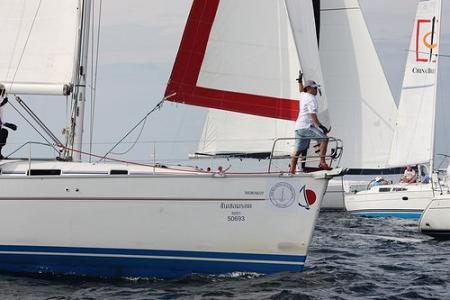 The second days racing here in Phuket proved tough, frustrating and a mixture of sweet and sour as the days course, taking us well south of the island, ground to a halt in dead air around lunchtime. Until that time, China Briefing had been well positioned under an overcast sky and a receding tide, punching far above our weight as our Jeanneau 32 overtook larger and more powerful boats, including some of the first day winners. However, that all came to a halt for close to two hours just as the yacht had rounded the farthest point and had spinnaker up set for a 14 mile long stretch to the finish.
The dead air was so poor that close to half of the entrants did not finish, however despite our having a smaller sail size, China Briefing was able to coax enough wind out of the sails and with the help of some craftily plotted currents, scraped into finish with 30 minutes to cut off, beating several larger rivals in the process. Overall today the yacht finished 12th, which added to yesterdays 8th position gives a mean placing of tenth. Yachts that did not finish were given maximum finish points plus a penalty, meaning todays result, despite China Briefing slipping two places, has opened up a large gap between the leaders and the rest of the pack.
Tomorrows event is the showcase Andaman Sea Race, one of the longest courses, following which sailors will have the following day off with racing resuming on the Friday and Saturday for the final races. China Briefing is the second smallest yacht at 32 feet in participating and is at a disadvantage for longer races. However, with two shorter races due on the Friday events, the yacht, if it can maintain touching distance with the leaders over the longer races is still in with a good chance of a strong finish.
Today's course: 23 miles completed in 7 hours 43 minutes
Pictured is todays start.