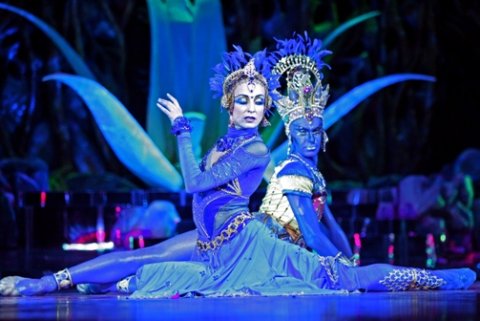 Les Saisons Russes du XXI Siecle (The Russian Season in the 21st century) is a ballet programme and tribute to Serge Diaghilev's Ballet Russe, which for twenty years in its original format between the two world wars held the social season in London, Paris, Monte Carlo and other cities in its thrall. Bringing together the best of the Russian immigres fleeing the Bolshevik revolution, it introduced the classicism of Russian Court ballets to the new and avant garde. Ballet stars whose names still reverberate today – Nijinsky, Balanchine, Fokine, Pavlova, along with set designers including Salvador Dali, Jose Miro, Leon Bakst & Pablo Picasso, mixed in with a dash of Coco Chanel, Natalia Goncharova and Henri Matisse. And that is without mentioning the music, often specifically commissioned. Stravinsky, Prokofiev, Debussy & Ravel, plus many others. Stravinsky's works with the Ballet Russe especially are now considered genius – Firebird, The Rite of Spring are still in the repertoire today.
The Ballet Russe closed in 1929 when Diaghilev died suddenly, and although a whole host of revivals, most notably "Les Ballets Russe De Monte Carlo" kept the name burning, by the Second World War it was all over. No films were ever shot of the performances – Diaghilev had forbidden this – and in the chaos of war much of the material such as choreographic notes, costumes and sets were lost. Les Ballet Russe, it seemed, was lost to remain a memory and faded programmes. Step forward, however, Andris Liepa, a world ballet star and son of one of Diaghilev's choreographers Maris Liepa. In research that has taken over 20 years, lost ballets have been painstakingly recreated from old reviews, photographs and from interviews taken from the few remaining dancers still alive, many of them now in their nineties. Where gaps in the choreography have remained, this have been filled in with new work by Liepa and Jurius Smoriginas.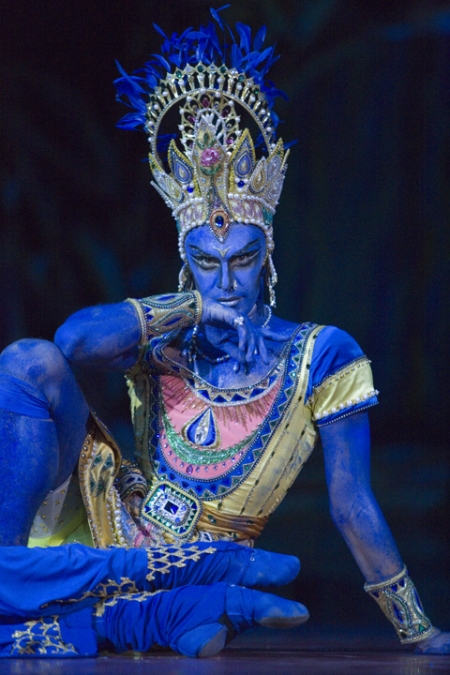 Some twenty ballets have been recreated, albeit some that have never left the repertoire, such as Firebird and Scheherazade, of whom nothing has been lost from the original choreography, sets or costumes. Others, such as The Blue God, Thamar and the notorious L'Apres Midi D'Un Faune, have been the subject of much research in order to recreate them and bring them back to the stage. Les Saisons Russes du XXI Siècle premiered at the Theatre Du Champs-Elysee – home of the original Ballet Russe in Diaghilev's day. That programme has now run successfully each season for the past three years – and it has finally been brought to London, where Les Ballets Russe also enjoyed considerable acclaim. Spread over three evenings, and produced at the Coliseum, the Ballets "Blue God", paired together with "Firebird" took up the first evening. The Blue God – loosely based on a depiction of the Hindu God Vishnu, who takes pity on a couple separated when she is marked out for a religious sacrifice. This ballet was missing much of the original choreography, while the details for the sets had also been destroyed. What did remain were photos of the dancers in costume, and the original score by Scriabin. It was then, an updated modern interpretation of how the original looked – and I for one enjoyed it. Many purist critics have hated it, stating "it wasn't original" however I'd rather see someone try and show what it may have looked like than have nothing at all. If much of the choreography was new, at least it made sense and told the story well. As for the costumes and sets – as one would always expect, these were stunning. The original Blue God did not fare so well; apparently suffering the same fate as music and dance not quite matching the spectacle – in which case they got it right. I've never seen a ballet like it, and that was to my great satisfaction.
The Firebird meanwhile was everything it was meant to be. I've seen it many times, and the sets, costumes, choreography and music have all survived making it a much loved and still performed piece. But with Russian dancers on loan from both the Bolshoi and the Mariinsky, plus St Petersburg's State Academic Symphony Orchestra under Alexander Titov, it was always going to be fireworks and splendor. I liked the evil Kalshei the Immortal just as much as the Firebird, and the whole thing went off to several curtain calls. Of note were the dancers Nikolai Tsiskaridze, the leading principal dancer with the Bolshoi as the Blue God, and Alexandra Timofeyeva from the Kremlin Ballet as the Firebird. When the Russians "do" Russian – they invariably get much more power, romance, tragedy and glamour into their performances than anyone else can muster, and this is as true for their ballet as well as it is to their music and the opera.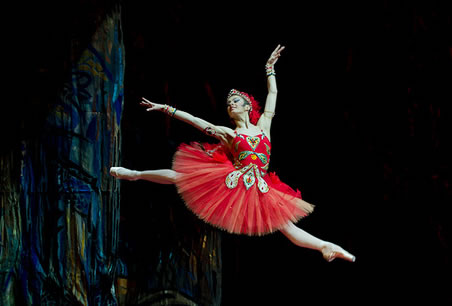 The second evening also paired together an obscurity with a well known piece, this time the long lost "Thamar" with "Scheherazade". "Thamar" was produced in 1912, and is set to a poem by the Russian Mikhail Lermontov, and is set to a score by composer Mily Balakirev. The piece centre's around a Russian legend of a beautiful Georgian Princess, Thamar, who lures passing travelers to her castle, seduces them with food, wine and an evening of love then has them put to death. The ballet piece however changes the original dark tale to that of Thamar being young and beautiful but in the control of her powerful Castle manservant, who is jealously in love with her. In the ballet, it is he, not Thamar, who has her unfortunate lovers murdered, for the most part by the relatively simple method of throwing them off the castle ramparts. Again, a lot of the original work has been lost, so much of Thamar is a recreation. And, I have to say, a very contemporary, original and romantic one it is too. Act one begins with an effective use of a large sheet, under which are the ghosts of Thamars dead lovers. Mournful, she wanders around them, seeking embraces within the arms of these erstwhile suitors. We are then taken into the castle, where another hungry and love weary traveler has arrived seeking sanctuary and comfort. Taken with him, Thamar organizes a feast, dancing and an evening of romance between the two takes place to some quite beautiful music and choreography. Come daylight, and the intrepid adventurer, having enraged Thamars brute of a manservant, is captured, and thrown to his death. The piece ends again as it began, with Thamar mournfully wandering through the sheet of ghosts, sadly reflecting on her past lovers, unable to escape the brutality of jealousy and power. It worked well, and full marks to the production team. It may not recreate the original, but they have conjured up a marvelous replacement, and it is one that deserves a wider audience. Thamar was danced by Irma Nioradze from the Mariinsky Ballet.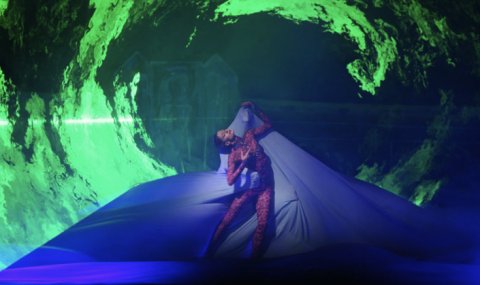 Scheherazade is also well known and has survived in full. Curiously, I had seen it just a week previously at the State Opera House in Ulaan Baatar! Scheherazade's score is to some wonderful music by Rimsky-Korsakov, who took the Arabian Tale "One Thousand & One Nights" as the basis for his music. The ballet however tells a different story – and being Russian, typically tragic. Here, Scheherazade is a beautiful Arabian Princess, spoiled by her husband, the Powerful Sultan. Wiling away her days and nights in luxury, the Sultan and his army are called away to battle. Scheherazade then immediately takes up with her lover, a young slave attending the court, all of whose subjects engage in an energetic orgy, both playful and sexual while the Sultan is away. But a loyal subject of the Sultan, horrifying by Scheherazade's duplicity, races after the Sultan and tells him what is going on. Unbelieving, yet persuaded to return, he catches the entire court in delicto flagrante and slaughters them all, including Scharazades lover. She along still lives. Begging for forgiveness, she pleads with the Sultan for his love, but finding it now destroyed, stabs herself in despair. Again, a well known and completely recreated piece, with stage sets, those amazing Arabic costumes, Rimsky-Korsakov's powerful and tragically romantic score made for a truly thrilling spectacle. It was a resounding triumph. Nikolai Tsiskaridze danced a lustful Golden Slave, with the legendary Ilze Liepa as a silver screen version of the beautiful, but deceitful and doomed subject of his desire.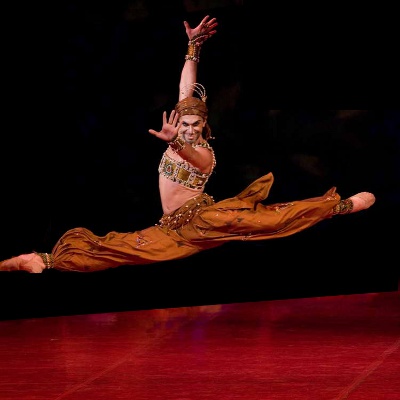 The third evening comprised three ballets, the very first ballet ever put on by Les Ballets Russe, the little known "Le Pavillon D'Armide", the notorious "L'Apres Midi D'un Faune" and finally, "Bolero", the latter rather surprisingly being its UK premiere. Le Pavillon D'Armide was premiered in 1909 and choreographed by Michel Fokine. Much of the choreography again has been lost however, with the performance again being more of an interpretation of how it may have looked rather than being the original material. Based on a story by Gautier, the ballet tells of the Vicomte de Beaugency who seeks refuge in a mysterious castle during a storm. There, in the pavilion where he spends the night, he is transfixed by a tapestry of Armide and dreams that he falls in love with her. In the morning he returns to his senses, only to discover that he is left holding Armide's scarf in his hand. Set to music commissioned by Diaghilev from the Russian composer Tchereprin, it is a courtly ballet, again with wonderful period costumes and a set largely based in the garden of a mystical castle. Tchereprin is today relatively little known outside Russia, but the score is pure romance – sweeping strings and glorious arpeggios. A romantic, dreamlike fantasy, the choreography has its moments – not least in a pas de trois in which Alexandra Timofeyeva is passed like an airborne parcel between two suitors. Overall it does rather tend to possess that dreamlike quality – it was interesting at the time but remains largely forgotten as a performance. It was, perhaps, the least memorable of the seven ballet series, but I do remember clapping like mad at its finale. Perhaps too sugary in content?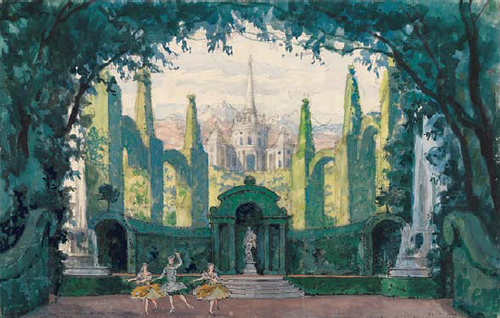 L'Apres Midi D'Un Faune however is a different matter, and created a scandal and outrage when it debuted in 1912, with the Faune originally danced by and choreographed by Nijinsky. Faune's are notorious as mythical creatures, half man, half goat and extraordinarily lascivious, lustful and prone to excess. Nijinsky knew full well what he was doing in his portrayal, as a sleeping Faune wakes up in the heat of the afternoon to the sight of a beautiful young girl. Smitten with desire, the short piece – it is just ten minutes, and uses some of Debussy's most original work – ultimately ends in rampantly sexual, bestial imagery of the Faune masturbating, humping style, over the young girls scarf which she has left behind. Paris was outraged and the ballet was quickly withdrawn to descend into obscurity. As a piece however, the Faune, here danced by the sexual beast that is Nikolai Tsiskaridze, married to Debussy's score still retains it's avant garde appeal. The music marked the beginning of atonal scores, and Nijinsky's choreography paved the way for contemporary dance. Swans in Tutu's this was not, and in many ways this short piece changed contemporary music. The director, Alexi Liepa, regrettably decided to reduce the ending to a rather insipid two thrusts and minor orgasm; children were present. But it was stunning, and I'd like to see the X rated version. I'm sure it may still fall short of obscenity laws.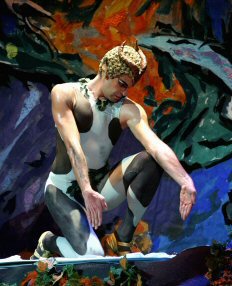 Bolero of course is well known as Ravels majestic, and famous piece to Spanish flamenco and bullfighting. However not many know it was originally commissioned by Les Ballets Russe, and was originally danced by Ida Rubenstein, from choreography by Bronislava Nijinska and designs by Alexandre Benois. War however was to curtail performances, and although highly popular when premiered, after Diaghilev's death and the aftershocks of WWII the piece fell into disuse. So much so, that it had never been premiered in Britain as a ballet. The long, slow musical buildup, evoking the military drums of the Spanish civil war, coupled with a Spanish rhythm and repetitive melody introduce us to a tavern somewhere in Iberia, where a bar girl begins to dance between two rival sets of men to break up a brawl. Transfixed, and forgetting their differences, the ballets principal dancer (here by Ilze Leipa) weaves between them, encourages them to join her and a sensational, multi-partner choreographed dance commences. The audience was utterly transfixed. As the music gradually grows and begins to cry, then roar in its intensity, so does the choreography, climaxing at the end as Liepa is lifted up by partners of the two rival gangs at the final drumburst. It was truly spectacular, and deservedly gained a tremendous reception. Over 80 years old, this ballet I'm sure will finally achieve a deserved place in the international repertoire. It was a colossal performance. Les Saison Russe XXI will next be dancing in Paris in Spring 2012. By then they will be premiering additional lost Ballets Russe works, and I for one can't wait to see them. A resounding success, and one of which the Liepa family can be justifiably proud.