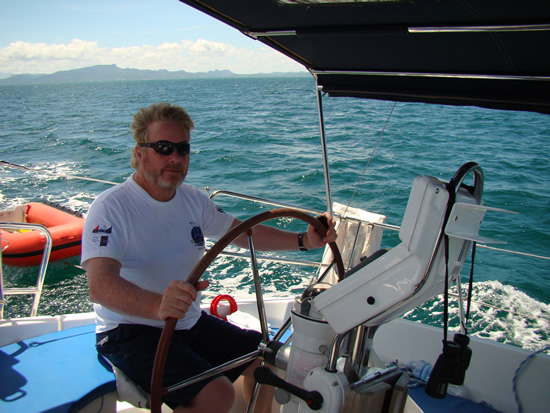 The first mini-voyage of my advanced ocean skippers course sees me take a 32ft yacht out from Yacht haven, around Ko Yao Yai to the south, anchoring overnight at Ao Muang having first sailed of a southerly, northerly, and north-easterly course around various smaller islands before dropping down in the Ao Muang bay. The weather is good, but not that breezy, I find the wind gets sheltered and diverted from islands en route, and speeds of about 2-3 knots only are common for part of the route. The second day however is more fun, sailing south down Ko Yao Yai, stopping over at an idillyic small island Ko Hong to practice mooring. The waters are crystal clear, and as we secure the mooring, what can only be described as a hermit wanders up the beach opposite to eyeball us, sitting in the shade. Binoculars reveal a makeshift camp under some bushes, before we sail on, rounding Ko Yao Yai at about lunchtime. The wind immediately improves, and is much more fun, the yacht nipping along at @5-6knots as the Westerlies buffet us somewhat about a mile or two off the Western Ko Yao Yai shore. The bow digs in a couple of times, and the yacht is almost permanently at a 40 degree angle as the wind rips into the main sheet. However, it's also pushing us to land, so progress is slow, although we eventually make anchor on the east coast of Ko Nakha Yai at about 5pm, more of less on time.
Dinner that evening is livened up by a huge fresh Red Snapper, which we promptly devour, bloody good it is, washed down with a couple of Singhas. I'm having problems with my reefing however, and am still getting mainsail and halyards mixed up. Back on board just before an evening squall, some lightening about, and it pours with rain for most of the night. This morning is showery, a chance to test my new Henri Lloyd temperature jacket, and it does the job, keeping the rain off and keeping me cool. Such is the requirement in tropical storms. My navigation is ok, and we're back to yacht haven by lunchtime. Exams to sit this evening, and a day off tomorrow, although I also have to plot a course for my next three day sail from Tuesday.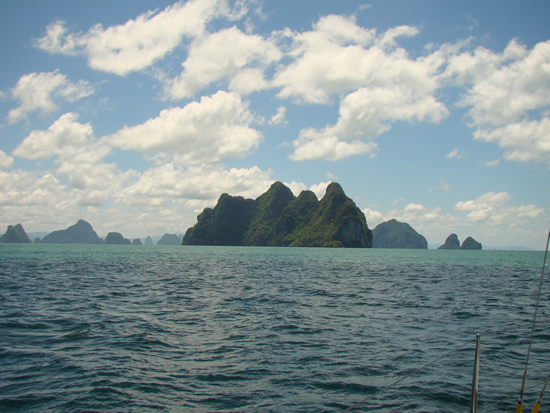 Typical island scenery around Phuket. This ancient limestone karst mountain range extends all the way from South-East Asia, being partially submerged in the Andaman Sea, through Malaysia, Thailand and Vietnam and continuing inland to China's Guangxi Province, to the well known scenery of Guilin and the River Li.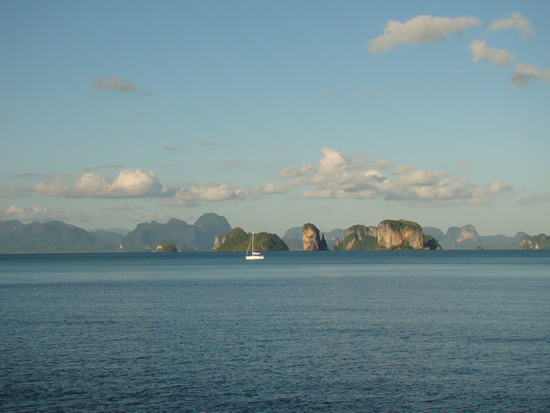 Safe overnight anchoring in 8 meters just off Ko Nakhi Yai. Five minutes to shore in the dingy to a bar proudly displaying a "Cold Beer" banner. Life's pleasures are best enjoyed simply.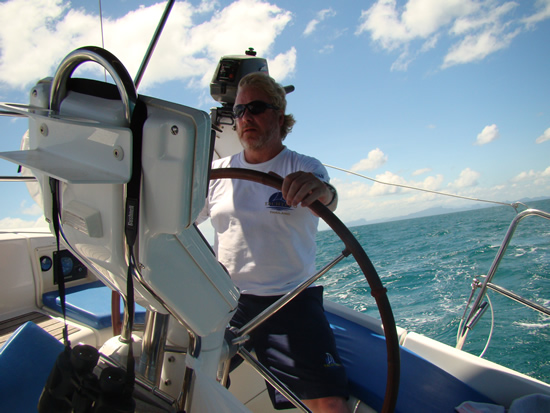 Battling to maintain course in 20knot winds with gusts to 25 off the southern tip of Ko Yao Yai. Note hair swept back a'la Kevin Costner style and angle of deck to sea. The lower starboard windows in the cabin below deck were perpetually below the water line. (I'm correcting course to port in this photo). Average speed over ground = 4 knots, so heavy going. The Monsoon has just arrived!