It's always good to back in Bombay, and on this occasion I thought I'd share a few of the evening sights that those familiar with the area will recognize, and those not may feel somehow exotic. The Apollo Bunder was the principal pier for embarkation and disembarkation of passengers and goods in Bombay in the late 19th century. Immense activity was to be witnessed in the Pier in the months of April and May of each year, when thousands of docras of cotton, (pressed bales were yet to come) used to be landed. Today it has been renamed, however no-one uses the Maharastran alternative. It is still "Apollo Bunder". The basic area is the sea front that extends from the Gateway to India north for about 2km. It encompasses the Taj Hotel, which is on the waterfront, and in my photo essay I have included streets and lanes just one block behind. I took my time in taking this tour, but it would be possible to circumnavigate it in 20 minutes. But why would you want to? Here then, is the trip. All these photos were taken within 100 yards of each other. :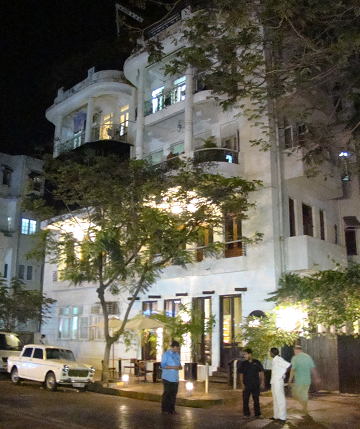 Apollo Bunder is home to prime residential property. A 150sqm apartment in this building is about USD5million.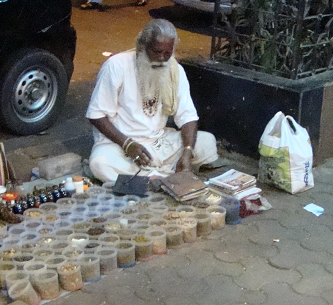 Back on the street below, this man sells Ayurvedic medicines and is an acknowledged expert in his field. No rent keeps his home made preparations affordable to many. He has had his practice for 50 years.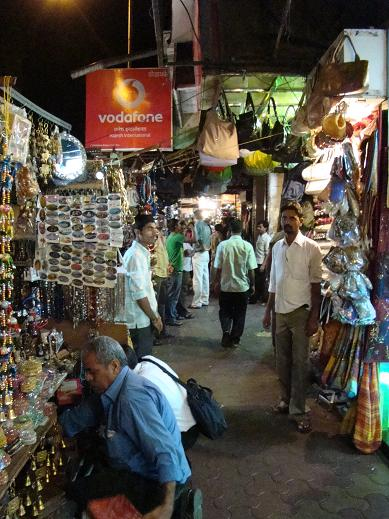 The street side bazaar is bustling, busy, and full of bric-a-brac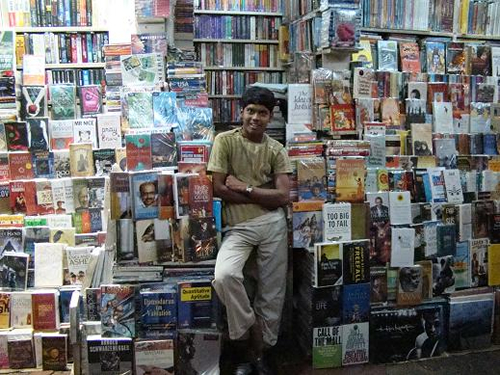 Indian higher education is strong, English is widely spoken and unlike China, there is little media censorship. Outdoor bookstalls like this are popular and very common.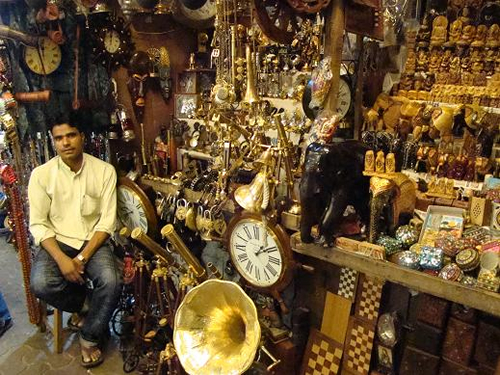 Everything from carved teak elephants, to railway station clocks. Most of these items are made in Maharastra, the State that Bombay is part of.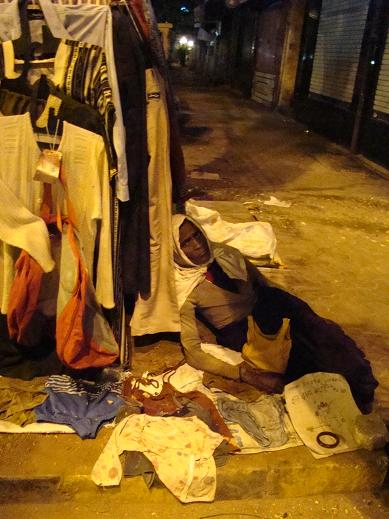 This woman lives by this tree. She sells garments, and even sleeps here. I've never seen her leave.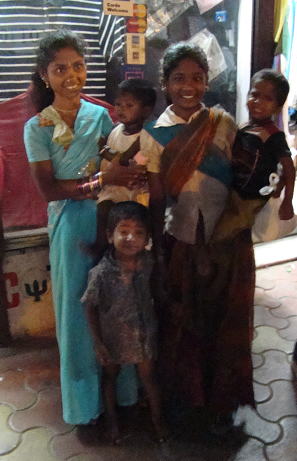 These girls are about 15 and have 3 year old children belonging to other people (and sometimes rent) to beg.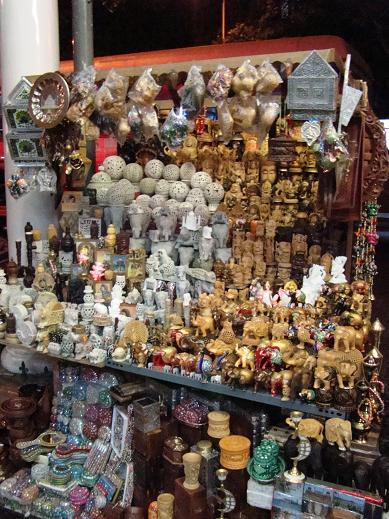 A variety of stone, wood and semi precious carvings, mostly from Rajahstan, which is famous for its craftsmanship.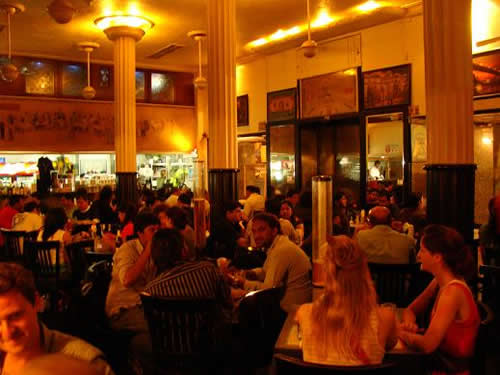 Café Leopolds, shot up badly in the Mumbai Terror attacks, but thriving again.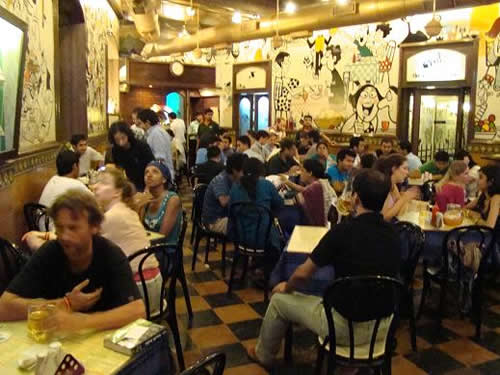 Café Modegar, close by, and equally busy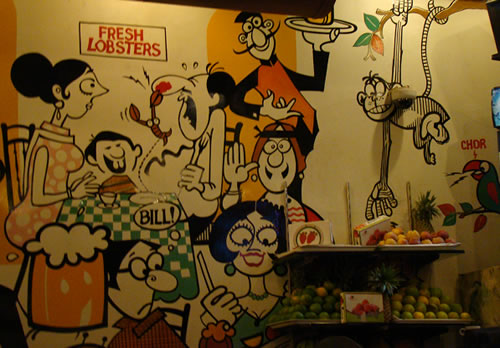 Part of the Café Mondegar mural. The Monkey is stealing fruit, while the parrot screams "Chor!" (Thief)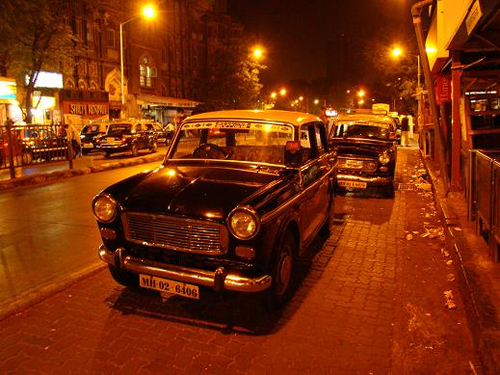 Bombay Taxis. The old Fiat 126, which is being phased out and will soon disappear.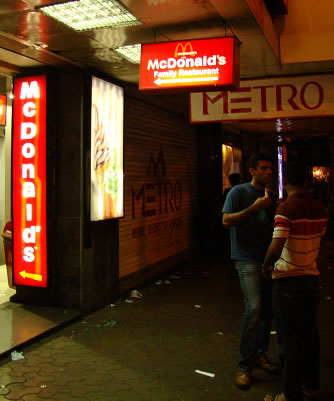 McDonalds are in India, where the ice-cream is a best seller.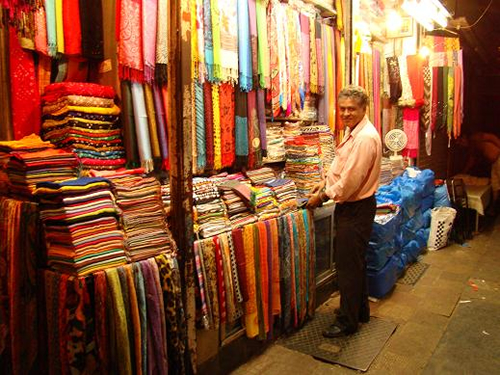 Fabric seller, from silks to pashmina. A family business for over 40 years.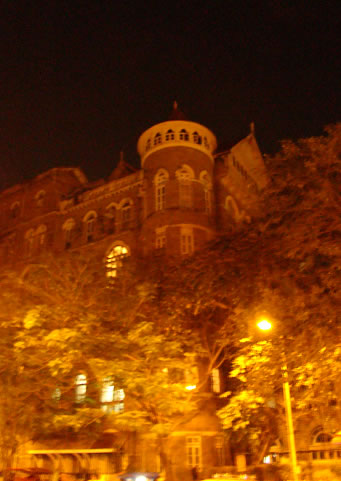 Just on the corner, the Royal Bombay Yacht Club, a Bombay Institution dating back to 1880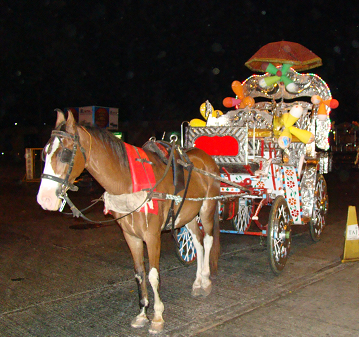 Arabic horses and carriages ply their trade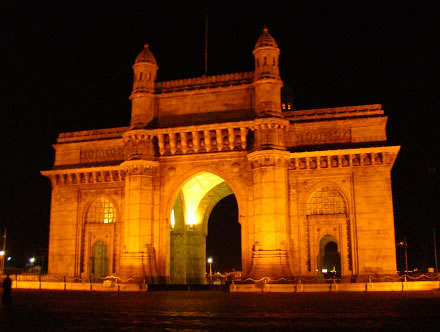 The Gateway To India, final symbol of the British Raj, still stands sentinel over the Bund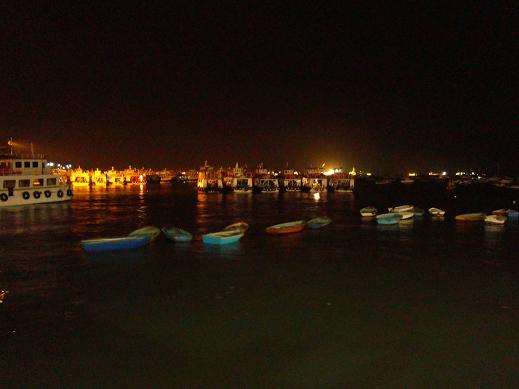 Fishing boats and local ferries are moored for the evening along the Apollo Bunder waterfront.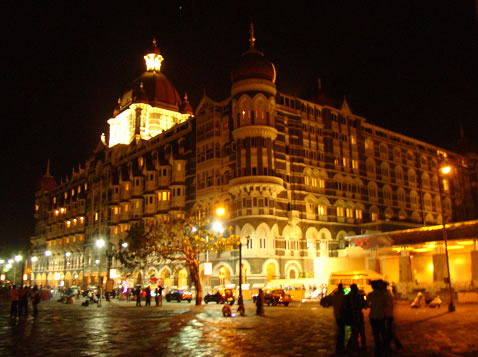 The Taj Hotel, now nearly fully recovered from the bombs and bullets of the 26/11 attacks.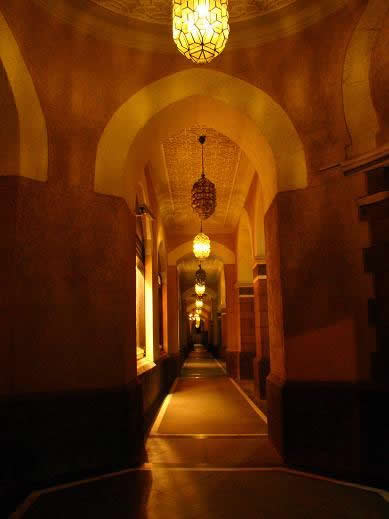 View down the main frontage of the Taj hotel, Islamic in design and featuring Chanel, Louis Vuitton and Salvatore Ferragamo in the (unseen) windows, amongst many other top brands.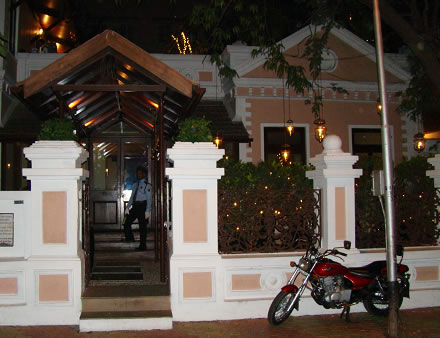 Indigo, possibly Bombays top restaurant, champagne at USD200 a bottle and exquisite fusion cuisine.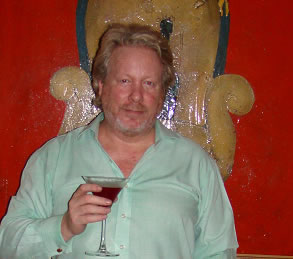 The author, after taking these photos, clutching a Pomegranate Martini. Cocktails in India should be a combination of cold, fruity, strong, exotic and reviving.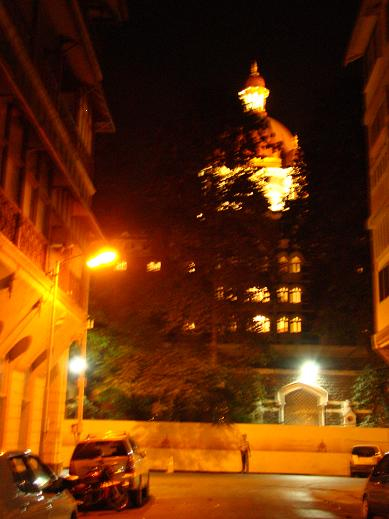 The Taj Hotels domes are still a potent symbol of the area, and can be seen from most side lanes and alleyways.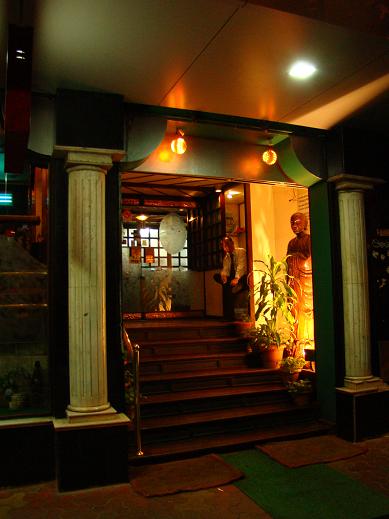 Ming, a popular Chinese restaurant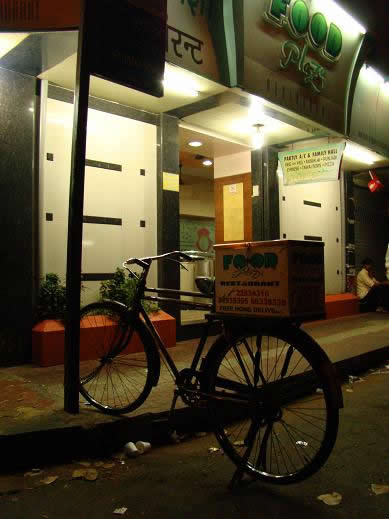 A delivery bicycle belonging to Food Plaza, take away pizzas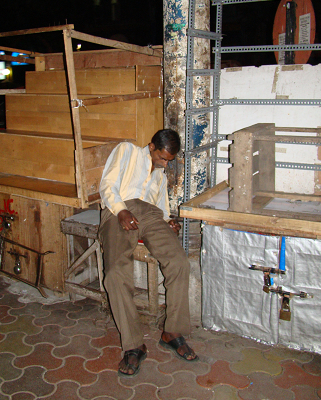 With his stock locked away, this street trader takes no chances and sleeps on a stool next to his wares.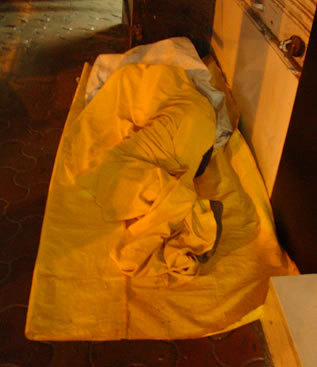 Another young employee, possibly the son of the shop trader, puts in an apprenticeship by sleeping outside the shop locked door. Quite literally, the 'shop floor' as an education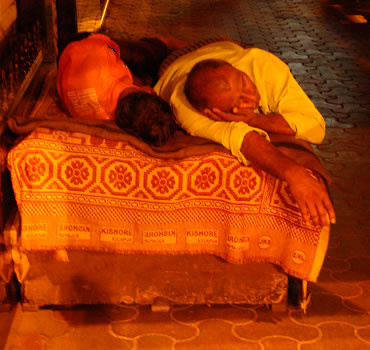 The habit is not confined to the young, some shopkeepers prefer it. In 30 degrees heat, Bombay is easy to sleep at night. This man and wife sleep on a bed they drag out of a store backroom each night to also keep gurad of their shop front.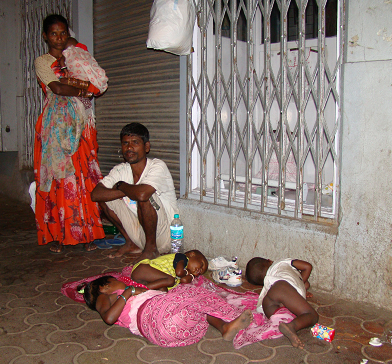 Others are not so fortunate. This man has just arrived from Calcutta and lives on the pavement with his wife and four children. He makes a living hassling tourists to buy flowers from a shop he doesn't own. If he progresses well and is good at persuading customers to follow him, he may get taken on as a permanent, yet commission only employee by a decent tailor or jewelers. That may be enough to get his children, after years of hard work, into college. Both he and his wife spoke fluent English, so he has a chance to move up.

The Tata Indica, a small, blue vehicle that is the face of the new Bombay taxi. It doesn't have the charm of the old Fiat, but is more efficient, runs on LPG and has air con.

Looks can be deceiving. Living on the street, yet these women give all their income from begging to the man at the center. In Apollo Bunder, this is prime territory and has local mafia connections. Having observed them over some period of time, I estimate this group possibly make upwards of USD500 a day in tourist donations.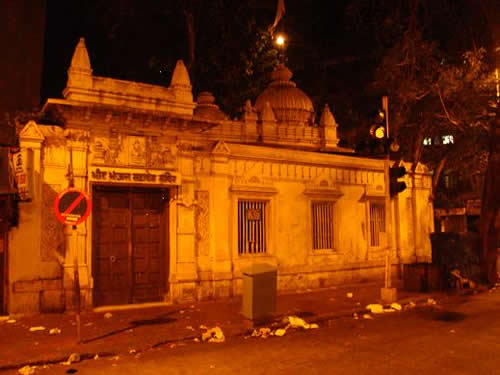 Back to close where we started from. This is a Hindu Temple to the Monkey God, Hanuman, and dates back at least 1,000 years. No-one is quite sure. Closed in the evening, at day it is a hive of religious and social activity – and quite appropriately given the nature of its God – has a large daily fruit market against the length of one wall.